The Challenges of 2030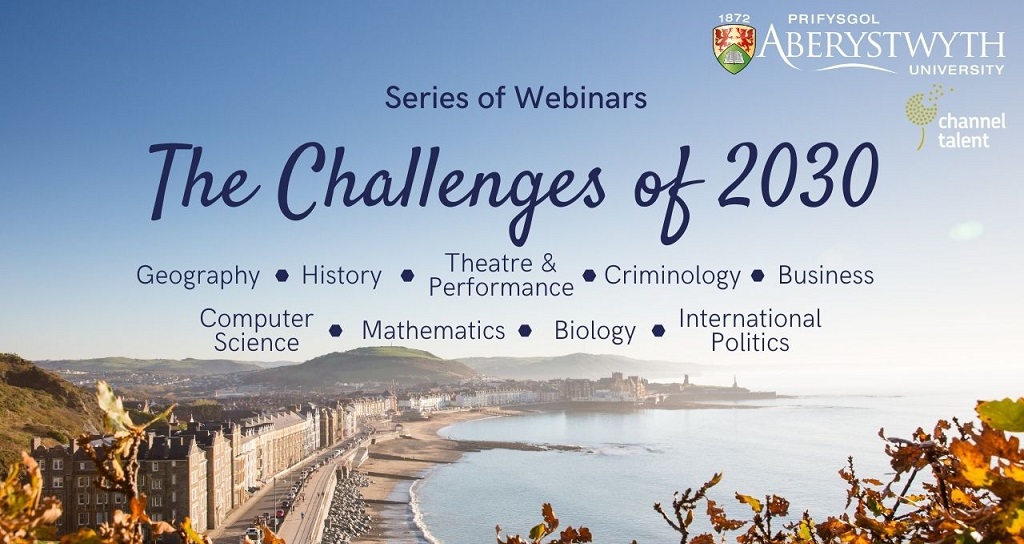 'The Challenges of 2030' Webinar Series
A new webinar series, 'The Challenges of 2030', views the problems of the not so distant future through the lens of a variety of different subjects such as Geography, History, Theatre & Performance, Business and Criminology.
In conjunction with Channel Talent, we aim to give you an insight into the teaching methods and research of University lecturers whilst discussing the problems that the next generation of students will be facing in the coming decade.
Geography in a Digital Age
In the first event in Aberystwyth's The Challenges of 2030 series, Professor Mark Whitehead from the Department of Geography and Earth Sciences presented Geography In A Digital Age: Reflections On The Smart Technology Revolution.
The session provides viewers with a critical introduction to the ways in which smart technology is changing our lives and particular attention will be given to the ways in which smart technology is reshaping our social and working lives. Mark also explored the issues of surveillance and injustice that are associated with the smart technology revolution.
History: Fake News, Conspiracy Theories and Disinformation
As part of Aberystwyth's exciting The Challenges of 2030 series, Dr Arddun Arwyn from the Department of History & Welsh History presented Fake News, Conspiracy Theories and Disinformation: Past, Present and Future.
Fake News, conspiracy theories and disinformation are prominent features of our society today. They have a great impact on politics, are eroding trust and are creating dangerous divisions. These issues are also a big challenge for our future.
Fake news is not, however, a new phenomenon. There are numerous examples throughout history when disinformation and conspiracy theories have impacted politics and society.
This webinar explores the detrimental effect of disinformation on German politics and society in the Third Reich and highlights how the skills of the historian in critical thinking, fact checking, and analysis are central to combatting disinformation in the future.
Theatre & Performance: The Show Must Go On
As part of Aberystwyth's exciting The Challenges of 2030 series, Dr Louise Ritchie from the Department of Theatre, Film & Television Studies presented Theatre & Performance – The Show Must Go On.
For centuries Theatres have been celebrated as a place to gather; sharing and experiencing as part of a collective.
In our current covid world, theatre venues have become a restricted place, out of bounds and with limited access. This physical closure raises questions about who theatre is for and how it reaches audiences.
As we look to the future, the session will focus on Theatre and Performance makers who work outside of traditional theatre venues and the ways in which they are connecting with audiences in new and interesting way.
Criminology's Contribution To The Climate Crisis
As part of Aberystwyth's exciting The Challenges of 2030 series, Dr Lowri Cunnington Wynn from Department of Law & Criminology presents Criminology's Contribution To The Climate Crisis.
There is no doubt that the world is facing a significant and complex climate crisis.
Current debates within Criminology adopt a Green perspective, and this introduces students to the main theoretical approaches within Green Criminology, with particular emphasis on international perspectives and solutions to the climate crisis.
In addition, Dr Lowri Cunnington Wynn introduces concepts of 'environmental harm,' vs 'environmental law.'
Green Criminology is central to students' understanding of a changing world, and this session explores the complex dependence between humans, nature, the changing climate and its relationship to harm and crime.
Business: Rise of the Machines
Dr Ian Harris from the Aberystwyth Business School presents Rise of the Machines – How Amazon's Robot Revolution Destroyed Its Competition.
In July 2020 Jeff Bezos' net worth topped $200,000,000,000! Decades earlier he knew that Savings, Selection, and Speed were key to his success.
Bezos recognised that data, automation, and robotics would support these consumer requirements and create lasting competitive advantage and he invested heavily.
Competitors have been decimated, but is his workforce headed for the same fate?
Within the session, there were three interactive polls addressing each of the focal points of the presentation: Selection/Speed/Savings.
The event links to A level/BTEC curriculum areas including: Supply Chain/Supply and Demand/Inventory Management/Markets/Business Structure/Business Finances/Marketing.
Computer Science: Bioinformatics & Our Genomic Information
Dr Amanda Clare from the Department of Computer Science explores how new technology is digitising biology, discussing its potential and its ethical implications.
We can now automate laboratory experiments, decode and interpret genomes, store large amounts of data and model a wide range of intricate systems from epidemics to the connections of the brain. The subject areas of biology, computer science and mathematics are being brought together to enable our future.
We ask questions along the way to find out how comfortable we are with the rapid changes we've seen in what is possible, and what we could expect to see by 2030. Personalised medicine? Genetic information read from your mobile phone? Then we ask: what will we do with all this biological data that we're gathering, and how will we share it? We are also very aware that data is not the same as knowledge: how are we going to make sense of it all?
The key topics introduced and discussed are:
History of digital biology
New technologies
Bioinformatics and genomics
Data science
This session aims to:
introduce some of the potential of this exciting topic
demonstrate one of the fields available to those who go on to study computer science, biology or maths
raise ethical issues about digital biology that we'll all need to deal with by 2030
International Politics: The Future of World Order
Dr Jeff Bridoux from the Department of International Politics explores the future of world order. The session tackles key themes including power in international politics, United States, China, and global challenges (climate change, global health, nuclear proliferation, war, globalisation).
The last ten years have been marked by a gradual shift in power amongst great powers. More specifically, a relative decline in US power concurrent with the rise of China as an economic and military powerhouse have prompted analysts of international politics to declare that the world is entering a period of power transition.
The world order as we know it is changing.
This session aims to:
assess the state of the current world order;
identify key-challenges to global stability; and,
venture a guess as to the shape of world order in 2030.
Mathematics: Quantum Computation
Alexander Pitchford, Rolf Gohm, and Jukka Kiukas, from the Department of Mathematics at Aberystwyth University, introduce the mathematical principles of quantum computing, and discuss the impact of quantum information science on emerging technologies.
The rapid development of quantum information theory has fundamentally changed the concept of computing. While conventional computers work on information encoded in bits as two-state (0/1) choices, quantum computers use information units (qubits) with a much larger set of possible states. The "quantum advantage" over conventional computers lies exactly on this extension, the mathematical description of which goes beyond the Boolean logic underlying the conventional computation model, requiring a combination of algebraic structures and probability theory.
Currently, major technology companies, including Google and IBM, are investing in quantum computing, with the expectation that it will in the near future become a part of mainstream computing industry. Consequently, advanced mathematical skills will be an increasingly valuable asset in the job market of this area.
This webinar introduces, in simple terms, the basic mathematical principles needed for understanding how quantum computing utilises the set of available computational states, the two main quantum features being superposition and quantum entanglement.
Current quantum technology applications is also discussed.
Biology: Climate Change & Conservation
The main objective of this session is to discuss how research that scientists carry out now can help tackle the combined challenges of climate change and habitat loss.
The session will outline the dual threats of climate change and habitat loss and allow students to discuss their potential impacts.
The session will then move on to looking at two applied research projects, ECHOES (based in Wales and Ireland) and DGbarcoding (based in Sabah, Borneo). The overall aim of both projects is to provide data which will help mitigate these future challenges. We will then discuss the limitations of the research.
The students will benefit from learning how science projects are carried out in real-world scenarios by multi-disciplinary teams.