Access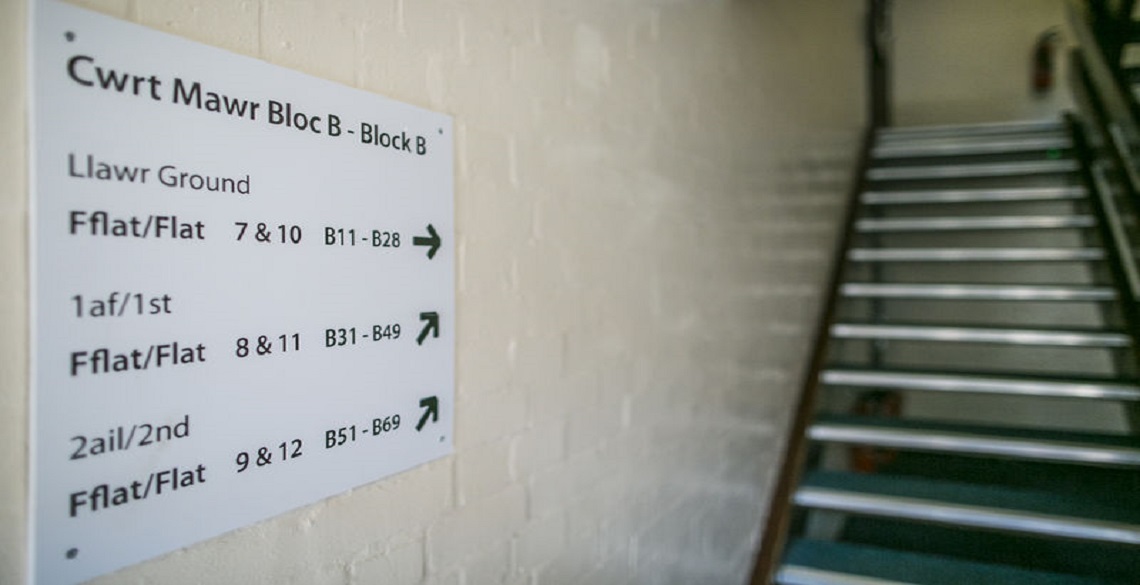 Aberystwyth is recognised as one of the safest and friendliest University towns in the country. We strive to ensure your accommodation is safe and secure so you don't have to worry.
Access Cards, Keys and Fobs
You will find that every bedroom, flat/house and block doors will be fitted with a secure lock system. Our residences do vary in the type of locking system provided for example, some are operated by key(s), some by your AberCard/access card and some by a fob.
Please ensure your key, fob or access card is always secure; do not lend them to anyone, including friends, family or flatmates. The University advises you to have your University Aber Card on you at all times as your AberCard not only gives you access to your accommodation but to other areas, such as laundry rooms, as well.
When leaving your accommodation, whether this will be for a short period of time or a long period of time, you must always lock your doors and take your keys with you. This is to ensure no one else has access to your room and your belongings are kept safe. If something is stolen / damaged and you left your door unlock, your insurance may be void.
Lost or stolen keys
You will be asked to sign for your keys upon arrival and again when you depart. If your access card, key or fob has been lost or stolen, you must report this straight away. For any replacement keys/cards/fobs given to you, there may be a charge.
Getting locked out
If you are locked out, don't worry, just contact the Accommodation Office, Campus Reception or the 24/7 Campus Life Helpline. You will need to confirm your identity in order to be let back in. If you lock yourself out more than 3 times, you may be invited to meet with a member of the Campus Life Management Team to resolve any problems.
Access by others
Occasionally, others may also need access to your accommodation. Remember: all staff are required to carry identification. It is your right to ask for identification and you can refuse entry if it isn't shown - if this happens please contact the Accommodation Office.
Access by Staff
Staff will need to enter you accommodation for inspections, safety checks and inspecting maintenance issues; you will be given notice of approximately 7 days. There are a small amount of reasons this notice cannot be given:
In an emergency such as a flood, fire or suspected fire.
Fire Drills.
Where a safety restraint has been removed from a window.
Where a complaint has been received regarding an issue such as noise, behaviour or issues with visitors.
Where a resident is reported as smoking in the building or possessing illegal substances.
Where there may be a welfare or health and safety issue.
Inspection of a vacant room due to a resident departing during the year.
When a Residence Assistant is making a delivery or visit.
If there is an empty room in your flat, staff may need to go into it for various reasons. Somebody who is transferring rooms may wish to come and look at the room before moving in. Therefore, there is a possibility of a new student taking up residence in the room and they could move in at any time. If the room remains empty, staff may also enter near the end of term to do the end of licence inspection.
Empty rooms also need to be checked weekly by a member of staff in order to carry out a Legionella test. As a result, if the room remains empty, someone will be in to check that room, but that room only.
Access for Repairs and Maintenance
If you report a fault in your residence, contractors will have to access the area in order to resolve it. If you are not in at the time of their visit, they will leave a calling card to notify you if they have resolved the issue or if they will need to return.
If you have reported a fault, you should expect a contractor to visit within the priority timescale. Building and maintenance work starts from 9:30am (excluding emergency repairs). In reporting a repair you are consenting to personnel entering your room or flat to assess or carry out the repair.