How to apply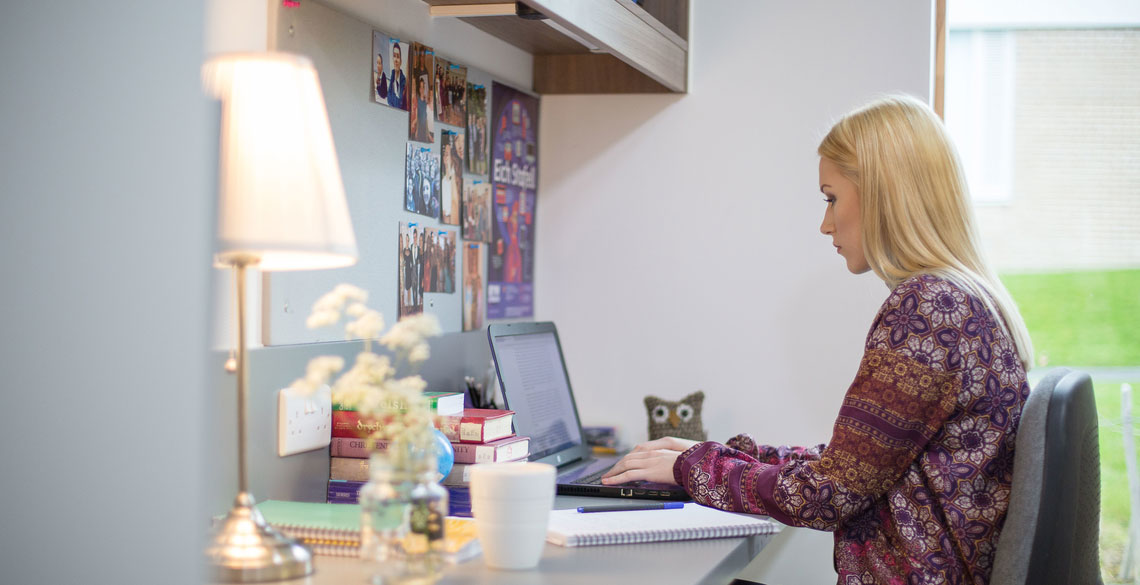 Aberystwyth University has around 3,500 bedrooms available in our residences that are either owned or managed by the University.
When can I apply for accommodation?
Dates when applications open can be found on our New Students webpage, or if you are already a student, our Current Students webpage.
When you complete the application form you will be asked to prioritise our different residences. Therefore, before you apply for accommodation why not take a look at the range of options we have available on our Accommodation Options webpage. We offer a variety of residences; including standard rooms with shared bathrooms, en-suite rooms and self-contained studios.
How do I apply for accommodation?
Step 1 - Accommodation Portal
Login to the Accommodation Portal where you will find our online application form.
The Accommodation Portal is an online service to apply and secure accommodation at Aberystwyth University.
Login as follows:
Step 2 - Application Period
Select the relevant application period you wish to apply for e.g 'Aberystwyth University Accommodation – Academic Year 2022/23'.
Step 3 - Application Form
Select 'Application Form' and complete the following steps:
1. Your Details -
New Students will be asked to provide an active e-mail address. This will then be used to send any correspondence to you until you have activated your Aberystwyth University IT Account. We advise against using a school or college e-mail addresses as this may become inactive after you have left.
IT account - Once your place to study at Aberystwyth University has been confirmed, from July onwards, details on how to activate your IT account will be sent by e-mail to you from Information Services.
You should activate your IT account as soon as you are invited to do so, in order to avoid any delays in securing your accommodation.
Once you have activated your IT Account, all correspondence will be sent to this e-mail address, therefore it is important that you check it on a regular basis.
2. Accommodation Options -
You will be required to prioritise the accommodation options available to you by room type and location.
Check out our accommodation virtual tours to help with your decision.
3. Accommodation Preference -
You will be asked if you would like to request to be accommodated with students of the same gender as you.
4. Accessibility, Disability & Health -
To help us allocate you to the most appropriate type of accommodation, you will be asked in this step if you have any medical condition(s) or specific access requirements. For example, physical/mental health condition(s), faith requirements, gender identity requirements, do you require assistance to evacuate the building in an emergency?
If you answer yes, then you will be required to provide additional information in order for the Accessibility Services Team to assess your application and make any recommendations to the Accommodation Office Team. Without appropriate evidence your application may be subject to delays, resulting in your preferred type of accommodation being unavailable.
5. Review and Submit -
You will be given an opportunity to review your application and make any required changes.
Once you are happy that all details on your application form are correct, select 'Submit Application'.
A confirmation e-mail will automatically be sent to you.