Moving out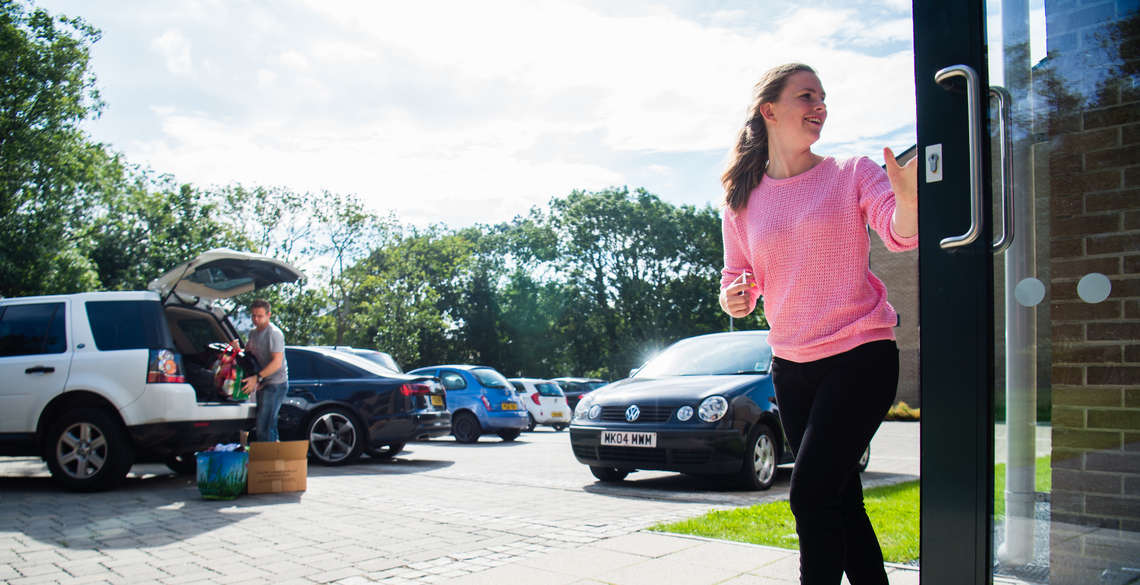 You may be at the end of your Occupation Contract, moving rooms, or leaving residences earlier than anticipated, either way we will be sorry to see you go. To ensure a smooth departure we have put together some useful information to help you.
Cleaning your bedroom and communal areas
When you leave your accommodation please leave it clean and tidy - as you found it, charges may be incurred if not.
A little reminder...
You are responsible for the cleanliness of your bedroom / studio room.
All residents in your flat/house are responsible for the cleaning of the communal areas (kitchen, bathrooms, corridors etc.)
In order to help you on your way we have prepared a useful Cleaning Checklist - why not download and print a copy to place in your kitchen for everyone to refer to and use!
Inventory Items, Maintenance and Repairs
On vacating your room make sure that all inventory items are present and any furniture is returned to its original location. If you have brought any additional items of furniture / white goods into your home whilst living with us please make sure you take them with you. If these are left behind you will be re-charged for the costs incurred for disposing of them.
Before vacating your room, it is important that you notify us of any damage or faults within your bedroom and communal areas. You can do this either by e-mailing accommodation@aber.ac.uk or by completing our online Fault Report Form.
Please be aware that missing or broken items may result in charges being made.
Moving out Inspections
As you and your flatmates move out one by one the Residences Team will pop in to inspect each empty bedroom ensuring that it has been left clean and tidy, free of rubbish and personal belongings. All bedrooms and communal areas will be inspected this year before the end of your occupation contract. You will be notified by e-mail of the day of your inspection.
If any damages are found, extra cleaning is required or rubbish needs to be removed, charges may be incurred. If you choose to leave early you are still jointly responsible for any communal areas. Please refer to the Residents' Handbook‌‌ for details of charges for cleaning and damage.
Should you have any queries regarding the end of term checks please do not hesitate to contact the Residences Team at the Reception in Y Sgubor, Fferm Penglais.
Unwanted Belongings
Don't throw away any items that are still useable, instead donate them!
We will pass your donated items of good condition to local charities and the Students Union.
What to donate:
Food - unopened, non-perishable, in-date items such as pasta, soup, sauces, cereals.
Toiletries - shampoo, shower gel, washing powder etc. DO NOT bring razor blades, used bars of soap or unopened tubes of toothpaste.
Kitchen Utensils - pots, pans, crockery, cutlery etc. (No dirty or burnt items).
Bedding and cushions - DO NOT bring pillows or duvets.
Books and games
Where to donate:
There are donation collection points in the following locations:-
Fferm Penglais Bike Store 2 (by block 5) (09:00 - 17:00)
Rosser D Learning Centre (24hrs)
PJM Communal Lounge (24hrs)
Pantycelyn - Junior Common Room
How to donate:
Place your items in the labelled boxes provided at the donation point.
When can I donate:
Monday 15th May - Friday 30th June 2023
Checking Out
When you are ready to leave it is important that you come and see us in order to check out of your accommodation - even if you are not returning a key.
When can I check out?
You will need to have vacated, locked your room, and checked out of your accommodation by 10am on the last day of your occupation contract. This date will vary depending on where you are living, therefore refer to your residence in the list below for confirmation of when you need to have moved out by:

Cwrt Mawr, Rosser (excluding Rosser G), Trefloyne, PJM and Pantycelyn - Friday 23rd June 2023.
Fferm Penglais - Friday 30th June 2023.
Rosser G - Friday 8th September 2023
You are welcome to vacate your room prior to this date, although please be aware that the accommodation fees will still be applicable up until the end of your occupation contract. Unfortunately, we are unable to facilitate any requests to stay longer.
When you check out you will need to return all of your room key(s)/fob to us, including your post box key. You do not need to hand in your Aber Card, however you will need to come and see us to check out. Please note: even if you don't have a key to return to us, you still need to come and see us in order to check out. Remember that if you do not return your key(s)/fob/post box key and check out by 10am on the last day of your occupation contract then you will be charged £30 per key/fob and £10 per post box key (if applicable). Please do not leave your key/fob/post box key in your room or with a friend.
Where do I check out?
Office hours (Monday - Thursday 8:30-17:00 and Friday 8:30-16:30) - Campus Life Reception, Y Sgubor, Fferm Penglais.
Outside of office hours - Campus Reception, Penglais Campus.
Mail
Unfortunately we are unable to forward any mail on to you after your departure, therefore we would advise you to set up a mail re-direction. This can take several working days so please allow enough time for this to be set up in time for your departure. You can do this by contacting Royal Mail.
Any mail delivered after you have moved out will be returned to sender.
Storage
Unfortunately we are unable to offer any storage facilities within the University, however we do have the details of several local storage companies. Contact us by emailing accommodation@aber.ac.uk if you would like further information.
Moving Out Checklist
Need a place to stay over the summer?
If you are staying in Aberystwyth over the summer and would like to stay in University Accommodation then we do have limited Summer Accommodation available, on a first come, first serve basis. If you would like further information, to make a booking, or if you have already booked and would like to confirm the moving in arrangements, then please see the Summer Accommodation pages.‌