Biosciences involves the study of fundamental life processes, of life and living organisms from the behaviour of single cells to entire ecosystems. From biology and biotechnology to genetics and microbiology, at Aberystwyth you will find a wide range of courses to choose from within the Biosciences.
Our flexible degree structures allow you to specialise in a particular area or study a broader range of topics within the Biosciences, allowing you to keep your options open.
Whatever your preferred discipline, you will find high quality teaching, state-of-the-art laboratories and cutting-edge equipment in our internationally recognised research and teaching department, to provide you with a superb learning experience.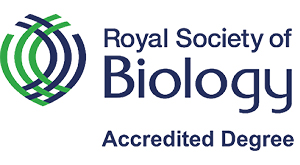 Top 5 in the UK for overall student satisfaction for the subject of Biology (National Student Satisfaction Survey 2022)

Top 10 in the UK for Teaching Quality and Student Experience for the subject of Biological Sciences (Good University Guide, The Times and Sunday Times 2020)

Top 15 in the UK for Teaching Quality and Student Experience for the subject of Biological Sciences (Good University Guide, The Times and Sunday Times 2019)
Why study Biosciences at Aberystwyth University?
You will be taught by passionate, engaged, friendly staff with expertise across the full range of biological topics.

Your academic studies will be bolstered by a wealth of laboratory and field classes which build real scientific skills essential for your future.

We will nurture both your intellectual curiosity and your general scientific practice.

You will have access to our bio-imaging and microscopy suite, modern laboratories and fermentation facilities.

You will have access to farms and woodlands for studying environmental microbes and those that impact on animal health.
"The course is very broad and caters for the interests of anyone wishing to study biology. The modules in the second year allow you to specialise in subject areas that you are interested in. The flexibility of the degree scheme is very attractive to a prospective student who is not yet sure where their true interests lie. The practicals are diverse and well spread over the academic year and reinforce lecture material"

Jodie Ackland
BSc Biology
"Biology is the study of life. To me, that is the most important study of all. From the smallest Archaea in extreme conditions to the dense masses and diversity of a rainforest, Biology covers it all with unbelievable detail and fantastic enthusiasm, particularly at Aberystwyth University. The teaching at Aberystwyth has allowed me to explore certain aspects of biology that I find fascinating, allowing me to acquire skills that will help me succeed in the future with a career I want. Biology at A"

Matthew Collins
BSc Biology
Employability
We place great emphasis upon practical skills so that our graduates become practitioners from the beginning and we ensure that our graduates have the skills to communicate their science effectively in the workplace.
Career opportunities are expansive, ranging from specialised scientific and technical roles to those where a broader spectrum of scientific knowledge is desirable, such as in teaching or science journalism.
Facilities
Our facilities include an Advanced Microscopy and Bio Imaging lab, Movement Analysis Laboratory for Health and Performance, Physiology Laboratory for Health and Performance, Human Health & Performance Laboratory, and a Well-being and Health Assessment Research Unit (WARU). We also offer a portfolio of support services for athletes combining scientific expertise and cutting-edge facilities to optimise athletic performance.
Students have access to research and teaching labs equipped with modern equipment, including bioimaging facilities, high-throughput DNA sequencing, proteomics, metabolomics, phenomics and spectroscopic platforms. These facilities provide students with the opportunity to develop the key skills that employers are seeking.
Research
The Department of Life Sciences is an internationally-recognised research and teaching centre providing a unique base for research in response to global challenges such as food security, sustainability, and the impacts of climate change. Our scientists conduct research on genes and molecules, nutrition and exercise, and whole organisms from microbes to entire ecosystems.
Microbiology Research Group
We study the ecological, physiological and metabolic capabilities of a wide range of micro-organisms, in particular fungi and bacteria. Our aim is to understand their important roles in ecosystem function, discover how better to exploit them in biotechnology, and modulate their impact, both beneficial and harmful on humans, domesticated animals, plants and the natural environment.
Molecular Biosystems Research Group
We use molecular approaches to study living systems as assemblies of chemical processes. This group brings together scientists who are applying the latest approaches to tackle several global challenges, including developing novel antimicrobials and other medicinal compounds, and increasing agricultural efficiency for food and biofuel production. The strategies employed include traditional and cutting-edge methods for separating and characterising biomolecules, as well as genomic, proteomic and metabolomic approaches.
Parasitology and Epidemiology Research Group
This group engages in investigations that address coevolutionary relationships between parasites and their hosts, and systems-based investigations. We are collectively addressing some of the world's major health problems caused by biomedical and veterinary pathogens. Our research interests span a variety of disciplines and involve molecular and biochemical parasitology, the landscape epidemiology of vector borne diseases, and the evolutionary and immunological implications of host-parasite interactions. We consider a range of infectious diseases caused by viruses, bacteria, protozoa, microsporidia and helminths.
Diet, Exercise and Health Research Group
This group is uniquely placed in the UK to link international studies on the causal relationship between diet, exercise and health with plant and animal breeding as well as the chemical phenotyping of food materials. With a focus on the use of metabolomics technology the group has developed collaborations with clinical experts having an interest in the development of chemical fingerprint screening methods for human diseases. Core strategic research programmes enhance the quality of animal products to meet the rapidly changing requirements of consumers for food which is safe, healthy, traceable, of consistent eating quality, diverse and convenient.
Study or Work Abroad
Aberystwyth University offers every student the opportunity to study, volunteer or work in another country either for an academic year, a single semester, or a few weeks during your holidays.
Find more information on our Global Opportunities webpages.
Studying through the medium of Welsh
Aberystwyth University prides itself on being a bilingual University. As a leading Welsh university, we are proud to offer dedicated support services and Halls of Residence for Welsh-speaking students, encouraging the sense of community and the feeling of a home away from home. Qualifying students will automatically receive the University's Welsh-medium scholarships and can also apply for Coleg Cymraeg Cenedlaethol scholarships. Find out more about our Welsh Medium Scholarships here.