Genetics has almost limitless potential to help understand human health and disease, evolution and the diversity of living things. Complementing this, biochemistry provides a mechanistic understanding of how chemical processes dictate the biology of an organism.
In studying with us, you will receive a thorough grounding in subject-specific knowledge, as well as gaining skills in scientific protocols and practice, which is essential if you wish to pursue a scientific career.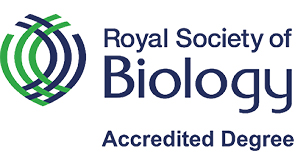 Top in the UK for overall student satisfaction for the subject of Genetics (National Student Satisfaction Survey 2022)

Top 10 in the UK for Teaching Quality and Student Experience for the subject of Biological Sciences (Good University Guide, The Times and Sunday Times 2020)

Top 15 in the UK for Teaching Quality and Student Experience for the subject of Biological Sciences (Good University Guide, The Times and Sunday Times 2019)
Why study Biochemistry & Genetics at Aberystwyth University?
We place great emphasis upon practical and laboratory skills so our graduates become practitioners from the outset.

We ensure that our students have the skills to communicate their science effectively so that they can join the often controversial genetics debates.

Our degrees are available with an integrated year in industry to give you a head start in the job market on graduation.
"My degree in Genetics and Biochemistry gave me a good grounding that prepared me very well for my PhD. The Molecular Biology of Development module inspired me to work in the area of Developmental Biology, which is what I work at today. I will be eternally grateful for the chance I was given and the teaching I received. "

Roger, Professor of Neuroscience, University of Copenhagen
BSc Genetics and Biochemistry
"Biochemistry is a very interesting and competitive course which helps me to develop my knowledge and understanding of science and medical fields. Throughout the Biochemistry course I have developed my practical skills because I have spent a lot of time in the laboratories, taking part in many experiments during the academic year."

Madalina Dragomir
BSc Biochemistry and Genetics
Employability
Our degrees will qualify you for careers in areas specifically related to the discipline, such as biomedical science and research, biotechnology, forensic science, clinical cytogenetics, genetic counselling and the pharmaceutical industry. Other opportunities exist within the food and drink sector, and the health and beauty care industry.
In addition, the transferable skills you will acquire are highly demanded by employers in all fields, from teaching to management.
Facilities
We have extensive research and teaching labs equipped with the latest equipment, including bioimaging facilities, high-throughput DNA sequencing, proteomics, metabolomics and spectroscopic platforms.
Research
Our lecturers are active researchers, whose latest projects include:
the development of new drugs for the treatment of some of the most neglected parasitic diseases in the world, including Schistosomiasis
developing new diagnostic technologies for the early detection o­­­­f chronic diseases in humans and animals
sequencing the genome of Miscanthus grass, expediting its development as a source of low carbon electricity generation
the development of a revolutionary urine test which measures chemical biomarkers to check the quality of a patient's diet
refining a natural by-product of mycoprotein (the main ingredient in all Quorn products) into an additive which enable the reduction of salt in pre-packaged foods with no loss of flavour
developing new tools for plant breeding, helping to develop a new generation of future-ready crops.
Study or Work Abroad
Aberystwyth University offers every student the opportunity to study, volunteer or work in another country either for an academic year, a single semester, or a few weeks during your holidays.
Find more information on our Global Opportunities webpages.
Studying through the medium of Welsh
Aberystwyth University prides itself on being a bilingual University. As a leading Welsh university, we are proud to offer dedicated support services and Halls of Residence for Welsh-speaking students, encouraging the sense of community and the feeling of a home away from home. Qualifying students will automatically receive the University's Welsh-medium scholarships and can also apply for Coleg Cymraeg Cenedlaethol scholarships. Find out more about our Welsh Medium Scholarships here.