Mae gwyliau celfyddydol yn fusnes mawr - ond dyw hynny ddim yn golygu eu bod wedi colli eu hysbryd di-ofal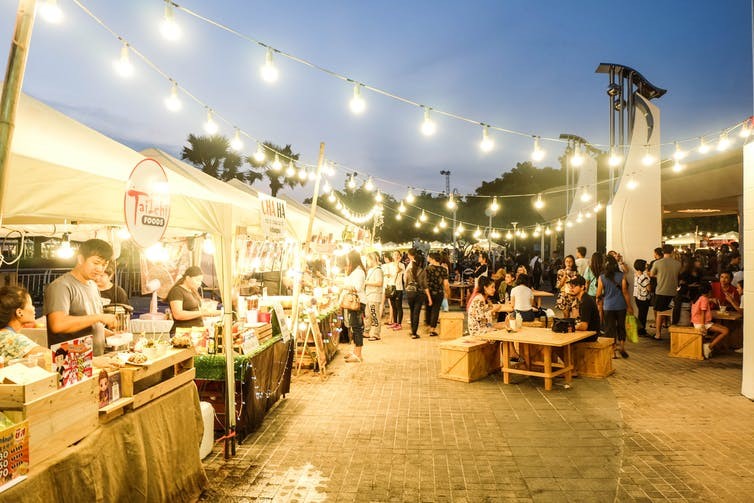 Festival stalls. Rainbow Bkk/Shutterstock
Wrth ysgrifennu yn The Conversation, mae Sam Saville, Ymchwilydd mewn Daearyddiaeth Ddynol, yn trafod a yw masnacheiddio a'i bod nhw bellach yn ddigwyddiadau corfforaethol yn golygu eu bod wedi colli eu hysbryd di-ofal?

Festivals have been part of human culture since before the Middle Ages. These days, gatherings of like-minded people in out of the ordinary events seem ever more ubiquitous. From quirky events such as MudFest held in South Korea, British cheese rolling, or village-wide food fight La Tomatina in Spain, to the more conventional festival structures such as Glastonbury or Burning Man, these gatherings are increasing in number and scope across the world.
Besides being a few days of intense fun, festivals are also big business. In 2016, UK-based Festival Republic, which organises several large music events such as Reading, Leeds and Latitude, recorded profits of £7m, up by 80% on the previous year's £3.9m. Annually, more than 3m people attend music festivals in the UK alone – and that's not to mention the other hundreds of arts, literary, food and local festivals that are held.
For those attending, festivals can be an expensive pastime, with ticket prices running into the hundreds for weekend events. That's before travel costs, food, drink, extra workshops, band merchandise, books or anything else that will inevitably tempt you.
While we revel in the carnivalesque atmosphere of festivals, finding release from the everyday, some wonder whether our care free identities and cultures are being commodified. Indeed, researchers have even gone so far as to claim that there has been unprecedented commercialisation and corporatisation of the music festival sector in particular. Looking at festivals more generally – and some of the big commercial operations that run them – begs the question, is this just another iteration of consumer capitalism run riot?
Commercialisation or celebration?
The answer is not a simple one. Our Global-Rural research team has been investigating a range of independent festivals held in Wales, as part of our work to better understand how globalisation manifests in rural areas. We have been exploring the extent to which these events act as hubs for cultural exchange between local communities and the wider world.
Not all festivals are operated by large corporations, some are even run as not-for-profit organisations. The Arts Council of Wales – which funds select events – noted that festivals are a "unique melting pot of quality and diversity". And that they "can be a shop window … a meeting point for the best in Welsh culture and the internationally renowned".
Festival organisers and funders recognise their events bring a significant amount of money into local economies, and can also foster a sense of community and citizenship. Green Man, for example, Wales' largest music festival, brings over £500,000 to the area. And events such as the Llangollen international musical Eisteddfod, Hay literary and Abergavenny food festivals mobilise a large army of volunteers and supporters to bring the fixtures to life.
But the impact of festivals is not just confined to the local areas they are held in. Curating performances, talks, walks, and visual and culinary delights for festival goers is quite the task. Taking a peek backstage, it becomes clear that the range of resources, expertise and supplies needed to make these events a success come not only from nearby. Lines of connection extend from festival sites across the country and far beyond.
Messengers of resistance
As part of our research, we have been experiencing festivals first hand, wellies at the ready, and talking to organisers in a more formal interview setting. So far, we've covered a range of small and large events covering food (Abergavenny), literature (Hay), music and arts (Green Man, Fire in the Mountain and Llangollen International Musical Eisteddfod).
Of course, at the festivals, we were encouraged to buy a wide selection of goods – books, crafts, workshops, hot tub experiences, exotic foods or local beers – in a glorious celebration of the thoroughly mixed up and globally connected world we live in. But despite the countless stalls, and things to pay for, we found that festivals still resist some of the less popular features of globalisation and capitalism.
Festivals are still messengers of resistance against things like environmental destruction, exploitation and reducing cultural diversity. Events like Fire in The Mountain help facilitate discussions between all kinds of people, on topics as diverse as company structures, alternative energy, currencies and spirituality. At Hay Festival, ideas from the political spectrum are shared. Green Man creates a positively progressive atmosphere. In 2017 trade unionists curated a strong spoken word line up, while musicians sang songs of protest and cultural critique, and scientists performed under the banner of resistance.
The line of corporate opposition is a tricky one to tread. While not every festival we visited had the will or the way to reject sponsors and "tat sellers", we found that some do actively select for quality and independence rather than opportunities for maximum profit. Indeed organisers are united in their passions for peace, food, ideas, music, and bringing people together – rather than profits.

Though they clearly can be a profitable enterprise, festivals are still important sites of cultural exchange, community cohesion and active resistance to mainstream culture. Global capitalism is after all, full of contradictions and tensions.
Sam Saville, Researcher in Human Geography , Aberystwyth University
This article was originally published on The Conversation. Read the original article.