Bem-Vindo Brasileiros
Hello! We look forward to helping you with any questions you might have about studying at Aberystwyth University and can be contacted with the following details.
Contact: Jackie Jarocki
Email: jaj64@aber.ac.uk
Entry Requirements
Entry Requirements

Foundation

Certificado de Conclusão de Ensino Médio or Título de Técnico with minimum overall grade of 2500.

Undergraduate

GCE A levels (or equivalent). Offers can vary depending on the course but are typically in the range of 104 - 128 UCAS tariff points. Applicants with a recognised International Foundation Year will also be considered.

Completion of the Certificado de Conclusão de Ensino Médio or Título de Técnico with a minimum overall grade of 2500 with successful completion of the foundation year can help to meet these requirements.

Postgraduate

You will be required to have a relevant four-year Bacharel / Licenciado / Professional title from a recognised institution, with a grade of approximately 6.0 or above to qualify for Aberystwyth University's postgraduate taught programmes.

UK 2ii = Bacharel/Licenciado/Professional title (4 years+) - 6.00
UK 2i = Bacharel/Licenciado/Professional title (4 years+) - 7.00
UK First = Bacharel/Licenciado/Professional title (4 years+) - 8.50

For specific requirements, please refer to the Postgraduate Admissions Office website.

English Requirement

IELTS score of at least 6.0 - 7.5

If you require help or assistance with your English then our International English Centre will be pleased to offer assistance and guidance. The Centre offers an intensive full-time course available before you commence your degree and provides ongoing support throughout the duration of your studies.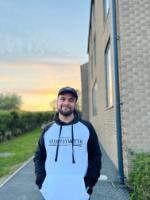 Matthaeus Menezes Assef
(BA International Politics and Climate Change)
Matthaeus was part of the international youth conference on climate change that works for the UN as part of his course and has also been in COP 26 and COP27 since he started!
What do you love about Aberystwyth and Aberystwyth University?
My friends and the sunset. The most fantastic thing in Aberystwyth is the sunset. The town is at the seaside so there is always a wonderful view by the end of the day. However, what I really love is all the people I met here and all my friends that I have. This is what I really love about Aber.
What have you enjoyed most about your course?
As I am learning two different topics, international politics opened my mind to understanding how the countries work with each other and the climate, how the world works and how it will be in the future because of the climate crisis. The combined courses can help me understand climate policies and how they shape international politics.
How did you find adjusting to life in Aberystwyth?
The town is lovely. I like here because it is small, so everything is near. Although I am from São Paulo and everything is so far, it is much easier to find here. The only problem is the cold weather, but I am Brazilian. On the other hand, I have warm blood, so it is my fault.
What advice would you give someone considering studying at Aberystwyth University?
My advice is to follow your heart if you want to study at Aberystwyth University. If your heart tells you to move to this beautiful little town, move. You will enjoy and be happy. I followed my heart, and I am glad every day to choose my course and have my friends around me every day.
Have you joined any student clubs or societies and what have you enjoyed about them?
I love the Erasmus society because there are people from everywhere and so much culture. It is one if not the best society. I also love the vegan one because I am vegan, and society always finishes with food, and who does not love food? It would be best if you went to both societies one day.
Alumni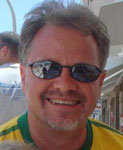 Ian Wilkinson
BSc Geology.
I spent many years after graduation living and working with Aberystwyth as my base, and it was only in 1997, 13 years after graduating, that I finally left the town for good. As a student, I remember most those walks back down Penglais Hill, when you could see the cold rain gathering and you just knew you wouldn't make the seafront before the squall hit... On a serious note, I remember the great atmosphere between students and staff, the slightly sedate pace of life and the chance to use that for the better. Can't also forget the pubs closing on Sunday (not any more, Ed.) endless fell-walking (again in that rain I mentioned), and that slow train journey back to (for want of a better word) civilization.
After an undergraduate geology degree, I then stayed on for a PhD in geology in North Wales and I was lucky to pick up a substantial volume of consultancy work that helped me into the oil and gas business at a bad time (1985) for the industry. I built that consultancy into my first business and have run service businesses in the sector ever since. A great career, as it has taken me all over the world, most notably into Russia (both before and after the fall of the iron curtain), Venezuela, and, for the last 14 years, Brazil. Indisputably the quality of my education at Aber, and more particularly the mentoring of my supervisors, were critical in getting me on the right road, and with the skill set needed to go forward. Even now, 27 years on, I still directly make my living based on what I learned at Aber. Can I say more?
I know that the course I studied no longer exists as such, but the basics stay the same. Take the studies seriously, and try to build on what you learn, principally because any course is always going to be just an overview which leaves a lot of interesting stuff there still to be found. Of course, learning doesn't stop at university, but that is by far the best chance you are ever going to get to absorb it. Aber gives you time to do that.
Agents
OK Student
Phone: +55 11 98149-6422
Website: www.okstudent.com.br
Address: Av. Quieroz Filho, 1560 - Torree Sabia - Sala 105,
São Paulo - SP,
Cep. 05319-000