Your Arrival to Aberystwyth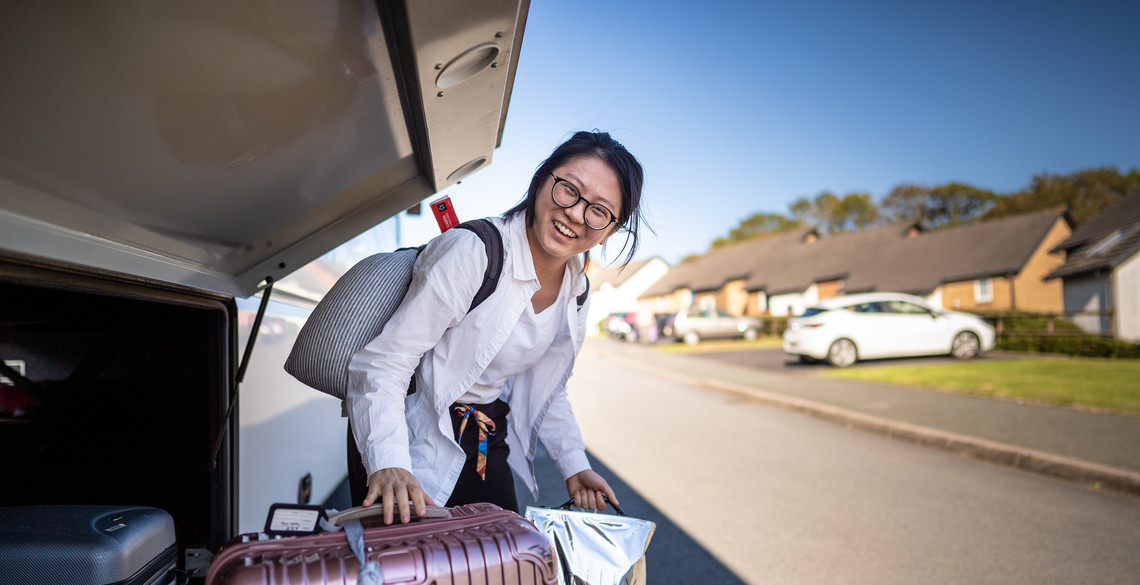 Our International Team looks forward to welcoming you.
The information outlined below will answer some of the common questions you may be thinking about, and will help you plan your trip.
Airport Pick Up Service
Our airport pick up service - a coach transfer from Birmingham International Airport (BHX) to your university accommodation in Aberystwyth will be running on:
Thursday 21 September 2023: 10:00am, 2:00pm, and 6:00pm
Friday 22 September 2023: 10:00am, 2:00pm, and 6:00pm
Saturday 23 September 2023: 10:00am, 2:00pm, and 6:00pm
Please note that the times listed above are departure times from the airport. Please allow yourself enough time to pass through baggage and immigration when booking your coach time.
This service is only available for new international fee paying students and exchange students. To book a place, visit the link below (Please do not book onto the service until you have your confirmed flight details)
https://aber.onlinesurveys.ac.uk/airport-pick-up-booking-form-september-2023
The deadline to book is Thursday September 14th 2023.
Travelling to Aberystwyth
Travel by Plane
Travel by Train
Travel by Coach
Travel by Taxi
Collecting your University accommodation key
When you arrive at Aberystwyth train or bus station, we advise you to take a taxi from the town centre. This should cost you approximately £5. The taxi rank is beside the train station and around the corner from the coach station. All the taxi drivers are familiar with the university.
You can collect your room key from the Accommodation Office which is open Monday to Thursday (8:30am to 5:00pm) and Friday (8:30am to 4:30pm).
If you are arriving outside of office hours please ask your taxi driver to take you to the Main Campus Reception instead (which is open 24 hours, 7 days a week).
Reception staff will be able to help you - providing you with a key to your room and directions to your accommodation. Ask the taxi driver to wait while you get your key and drive you to your accommodation.
Questions or Queries?