Chào Mừng, Vietnam!
Hi, my name is Maryann and I am the South-East Asia Manager in charge of Vietnam. If you have any queries about studying or living in Aberystwyth, I would love to hear from you. I can be contacted using the details below:
Contact: Maryann Vargis
Phone: +60 169 802 770 (WhatsApp / Telegram / Signal / Line / Viber)
Email: mav24@aber.ac.uk
Skype: Maryann.Vargis
Entry Requirements
Entry Requirements

Undergraduate

Bằng Tốt Nghiệp Phổ Thông Trung Học (Upper Secondary School Graduation Diploma) - with a minimum score of 8.5
GCE A levels / Matriculation Certificate (or equivalent). Offers can vary depending on the course but are typically in the range of 104 – 128 UCAS tariff points
Students who have completed Year 12 with a minimum of 6.5/10 may apply to the one-year International Foundation Programme at Aberystwyth University
Applicants with a recognised International Foundation Year will also be considered

Postgraduate

| UK degree classification | cGPA | Percentage % |
| --- | --- | --- |
| First class honours | 3.7 | 82% |
| Upper-second class honours | 3.52 | 77.80% |
| Lower-second class honours | 3 | 70% |

Successful completion of a relevant Bachelor's degree (Bang Tot Nghiep Dai Hoc) from a recognised institution with a minimum of 7.0.

Please note each course may require specific entry grades from the qualifications highlighted above. Some courses may also require an additional portfolio or interview.

English Requirement

You will be required to demonstrate English proficiency at the following levels:

Undergraduate – IELTS 6.0 – 6.5, with a minimum of 5.5 in each component
Postgraduate – IELTS 6.0 – 7.5, with a minimum of 6.0 in each component
Password English Test
Aberystwyth University is pleased to be working with Password to offer an online English test for FREE*

*Terms and conditions apply. Contact malstaff@aber.ac.uk to find out more.

The above requirements are dependent on the department as well as the course of your choice. See other acceptable proficiency tests.

All non-UK students from countries where English is not the first language are required to show evidence of sufficient knowledge of English - your level of proficiency in English must be proved before you begin your course. If you have not achieved the required level prior to the receipt of the acceptance for admission, the formal offer will include a condition that you will need to attain essential knowledge before the start of your course.
Scholarships
Level of Study
Award
Value

Undergraduate

Worth up to £2,000 a year plus an unconditional offer.

Cost of your housing is included in your tuition fees, either totally free or discounted by £2,000.

Postgraduate (Taught)

Up to 20% discount on tuition fees.

Cost of your housing is included in your tuition fees, either totally free or discounted by £2,000.

3 x Scholarships (one per student) worth £10,000 for an applicant studying a Postgraduate Masters course at Aberystwyth University.

Postgraduate (Research

AberDoc Scholarship*
*Value of award is subject to confirmation for 2021-2022.
For further information please see our Fees & Scholarships page or contact the International Office on international@aber.ac.uk
Student Profiles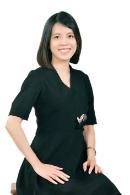 Thi Kieu Anh Truong
Kieu Anh completed an MSc in International Business Management in 2013.
What do you remember most about your time at Aber?
I remember a lot of things about Aber; beautiful sunshine, homesick rainy days, revision periods before exams, and definitely the wonderful time with my new close friends at Aber.
What are you doing now career-wise and how has your Aberystwyth Degree helped?
Aberystwyth Master's degree raises my confidence in business management. The methods and skills acquired from the course have proved useful, which I still apply in daily work and life. The time spent in the UK gave me another life experience that I would never forget as I grow up becoming more mature and professional. It is also an honour to connect with a wide community of professionals, classmates and friends from different countries. Throughout the years after graduation, I have worked in the hospitality industry, currently being Revenue Manager in charge of Revenue and Reservation Department at Meliá Hotels International in Vietnam. This job is very numerical and strategy-oriented. Sometimes I still remember the lessons and assignments of Finance, Market Consumptions and Strategy, Marketing, and Contemporary Leadership that I was taught in the school and feel thankful that I had chosen and been enrolled to Aberystwyth University.
What advice would you have for a student doing your course now?
I would like to advise prospective students to prepare well before coming, get involved in the school activities as much as possible, and most importantly not to be afraid of anything. Just have a go, learn new things, open yourselves and take an opportunity.