Hoşgeldin Türkiye
If you have any questions about applying to, studying at, or living in Aberystwyth, please contact our staff members for your country:
Contact: Sarah Kaiser
Email: sak75@aber.ac.uk
Contact: Victoria Conroy
Email: vic11@aber.ac.uk
Entry Requirements
Entry Requirements
Foundation

If you do not meet the entry requirements for direct Bachelors entry (shown below), you may be eligible for our foundation pathways.

Undergraduate

We require a Lise Diplomasi, from a highly ranked school, with a minimum final grade of 70% for direct entry to our Bachelors programmes. Where programmes have specific subject requirements at A-level, a minimum grade of 70% is required in these subjects.

Postgraduate

Lisans Diplomasi from universities listed here cGPA 2.60. Other universities: cGPA 2.90 or 72%.

English Requirements

IELTS score of at least 6.0 - 7.5 depending on course requirements.

If you require help or assistance with your English then our International English Centre will be pleased to offer assistance and guidance. The Centre offers an intensive full-time course available before you commence your degree and provides ongoing support throughout the duration of your studies.
Please note each course will require specific entry grades from the qualifications highlighted above. Some courses may also require an additional portfolio or interview.
Student Profiles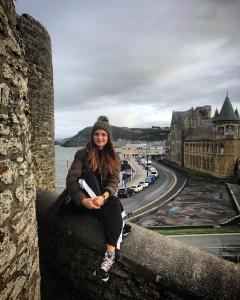 Kardelen Oya Temiz
What do you love about Aberystwyth and Aberystwyth University?
I've been to many different places in the UK, but Aberystwyth is my favourite. Its people are very friendly and they welcome everyone from different cultures due to the large student population. I don't have any difficulties in this town. Everything I need is in the town centre and transportation is very convenient. Especially being situated by the sea makes the location very beautiful both in terms of culture and tourism. My favourite places at university and where I enjoy spending time the most are the library and the gym. There are lots of possibilities for you to focus well in the library. The self-study areas especially are very nice.
What have you enjoyed most about your course?
The fact that everything taught in the courses is up-to-date and supported with academic references makes the course very interesting. It is a great advantage to be able to reach the people who will contact me immediately when I have a problem inside or outside the classroom.
How did you find adjusting to life in Aberystwyth?
I've never had a problem because everyone is helpful. There are many options in terms of accommodation and the location is very cheap compared to other student cities.
What advice would you give someone considering studying at Aberystwyth University?
This is a location where you can get what you want academically and feel very comfortable in the town. In no way do you feel alone. The temperature is reasonable, if you love nature and the sea and are looking for a study location suitable for your budget, Aberystwyth is definitely a great place.
Alumni Profiles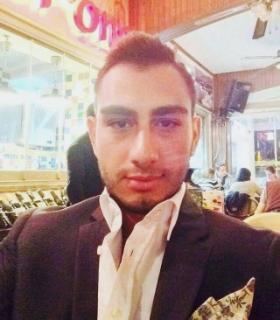 Bozok Yucel
Bozok graduated from Aberystwyth University with a MSc (Econ) in Terrorism and International Relations.
What do you remember most about your time at Aber?
I always wanted to study a degree in the UK because I had this firm belief that Britain offered top quality education in the world. When I decided to study at Aberystwyth, I knew that the University was old, rooted in tradition and excelled in Politics and Security. Interpol had some of the finest academics and experts in their fields at the time and it was such a privilege to study under their supervision. The University has contributed so very much to my intellectual and personal development. I did spend an utterly fantastic year at Aber, met so many wonderful people, made so many good friends and learnt so much. Even though the town was a bit isolated, I never had a dull moment thanks to the hospitality of the University and the local Welsh people. I do miss my long snowy winter days, walks in the countryside, great lectures in the legendary Old College, local pubs, boys' night outs with my housemates and help from the ghost of Sir Ellis Griffiths in the exams. Some say the business of life is the acquisition of memories and in the end that's all there is. I believe I have made some wonderful memories that I don't think I will ever forget. My deepest gratitude and respect to all those who make Aberystwyth University a great place to live and study.
What are you doing now career-wise and how has your Aberystwyth degree helped?
After completing my degree, I was back to Turkey where I served in the Turkish Armed Forces as part of the compulsory military service. My degree secured me a respectable position where I had the chance to work with the senior officers on security matters. After six months service, I moved back to London where I started to work as a political assistant in the House of Lords for Lord Sheikh of Cornhill in the City of London. Now I am working for Conservative Friends of Turkey as Political and Business Relations officer. We organise action days, events, conferences and canvassing sessions for Conservative MPs in London and I am enjoying every moment of it.
A degree from Aberystwyth University has opened many doors and helped me to discover my full potential. I am proud to be an old Aberystwythian.
What advice would you have for a student doing your course now?
Studying at Aberystwyth University was one of the best decisions of my life. I believe the university deserves every sort of compliment for its excellent academic and social opportunities. It is quite important to strike a healthy balance between university work and a social life. Study hard during the week, party hard in the weekend; make the most out of your student life in Aber while you can because there will be a day when you leave Aberystwyth behind and everything becomes a sweet memory.
Agents
Alternatif Education Counselling
Taksim Meydani
Siraselviler Cad.,
Taner Palas Apt. 9
Kat 2,
Daire 5 34437
Beyoglu
Istanbul
Tel: +902122924326
Email: info@alternatifecs.com
Website: www.alternatufecs.com
British Education Bureau (BEB)
Asmalı Mescit, Kallavi
Sk. No:1, 34430
Beyoğlu/İstanbul, Turkey
Telephone: 0212 244 4000 , 0531 376 3074
Email: turkeyist@britisheducation.com.tr
Website: www.britisheducation.com.tr/
Business Link
Illinsky Business Centre
Floor 6, Entrance 8
8 Illinska Str
Kiev 04070
Telephone: +38 044 494 2080
Email: edUK@businesslink.kev.ua
Website: www.businesslink.com.ua
Eduworld Education Services
Telephone: +90 3124667486
Email: info@eduworld.com.tr
Website: www.eduworld.com.tr
Horizon International Education
Telephone: +90 212 280 4107
Email: info@horizonedu.net
Website: www.horizonedu.net
IDP Ankara
Mesrutiyet Cad. No: 22/ 2,
Kizilay-Ankara
Telephone: +90 (212) 245 1588
Website: www.idp.com/turkey/
Email: distribution-spturkey@idp.com
IDP Istanbul
FLOOR: 4th & 6th ,
NO: 40 CUMHURIYET CADDESI
ELMADAĞ ISTANBUL-SISLI
Telephone: +90 (212) 245 1588
Website: www.idp.com/turkey/
Email: distribution-spturkey@idp.com
Iranankara
1st Floor, No.148,
Dastgerdi St. (Zafar) Shariati Ave,
Tehran, Iran
Telephone: +982175421000
Email: admissions@nilgam.com
Website: https://letsgouni.com/
My Arman Education Group Ltd
35A, Roehampton High Street, London, SW15 4HL
Phone: 07459489139
Website: https://applyuniversity.com/
Email: internationalrelations@myarman.com
SI-UK Ankara
Barbaros Mah. Tunalıhilmi, Cad. Banka Apt. No: 85-13 Çankaya, Anakara
Telephone: 02129950735
Email: ankara@studyin-uk.com
Website: www.siuk-turkey.com
SI-UK Atasehir
Küçükbakkalköy Mh. Merdivenköy, Yolu Cd. Rüya Sk. No: 12/18, Atasehir
Telephone: 02129950735
Email: atasehir@studyin-uk.com
Website: www.siuk-turkey.com
SI-UK Denizli
Çamlaraltı Mah. 6014, Sk. No:6 D:2 Kınıklı, Denizli
Telephone: 02129950735
Email: denizli@studyin-uk.com
Website: www.siuk-turkey.com
SI-UK Istanbul
Fulya Mahallesi, Büyükdere Cd. No:74/D,Kat:3 Ofis:10 34394, Şişli/İstanbul TORUN CENTER, Istanbul
Telephone: 02129950735
Email: istanbul@studyin-uk.com
Website: www.siuk-turkey.com
SI-UK Izmir
Folkart Towers A Kule Adalet, Mh. Manas Bul. No:47/B Kat:35, Daire:9 35530 Bayraklı, Izmir
Telephone: 02129950735
Email: izmir@studyin-uk.com
Website: www.siuk-turkey.com