Kenya
If you have any questions about applying to, studying at, or living in Aberystwyth, please contact the regional officer for your country:
Contact: Jack Coates
Email: jac136@aber.ac.uk
Phone: +44 (0) 1970 621892
Entry Requirements
Entry Requirements
Foundation

Grade C or above in Kenya Certificate of Secondary Education (KCSE).

Undergraduate

KCSE + a recognised International Foundation Year or equivalent.

Postgraduate

Bachelor's degree equivalent to good UK 2:2 honours – GPA 2.76.

| | | | |
| --- | --- | --- | --- |
| UK 2ii Honours standard | Good 2ii Honours | UK 2i Honours standard | UK 1st Class Honours standard |
| Bachelor's degree: 2ii / GPA 2.30 | Bachelor's degree: GPA 2.76 | Bachelor's degree: 2i / GPA 3.00 | Bachelor's degree: 1st / GPA 3.70 |

For specific requirements, please refer to the Postgraduate Admissions Office website.

English Requirements

Grade C or above in KCSE.

IELTS score of at least 6.0 - 7.5 depending on course requirements.

If you require help or assistance with your English then our International English Centre will be pleased to offer assistance and guidance. The Centre offers an intensive full-time course available before you commence your degree and provides ongoing support throughout the duration of your studies.
Please note each course will require specific entry grades from the qualifications highlighted above. Some courses may also require an additional portfolio or interview.
Student Profiles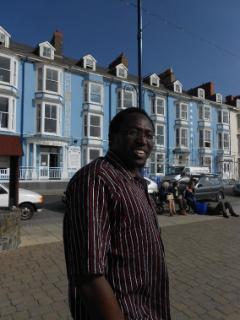 David Tarus
(MSc Environmental Management)
"My MSC degree from Aberystwyth University afforded me the requisite skills and expertise which enabled me to competitively qualify for international roles. I am currently working as a Seeds2B Project coordinator with AATF. This is an organization that deals with the deployment of improved agricultural technology in Sub-Sahara Africa (SSA). My role involves managing and coordinating the evaluation and commercialization of improved varieties of several crops in selected countries in SSA. Before this appointment, I was consulted by the Centre for Genetic Engineering and Biotechnology (ICGEB) under the auspices of its Biosafety Capacity Building Project for sub-Saharan Africa as an expert and adviser in bio-regulatory issues. Previous roles at AATF involved coordinating efforts in seed sub-sector policy and regulatory improvement, implementation of policy on the use of bio-fertilizers and bio-pesticides, and facilitation of regulatory aspects of aflatoxin control in maize and peanuts project in conjunction with the United States Department of Agriculture (USDA)-Foreign Agriculture Service (FAS) and COMESA. I also coordinated food safety capacity enhancement efforts involving the private sector, regulators and policymakers, an effort that was implemented in Eastern and Western Africa.
While at Aber, I enjoyed my stay as a student. The university's administrative procedures have been tailored to favour students at every level; from registration, academic assistance, library resources to the availability of work-study programs for students who would like to work and earn some extra cash during their spare time. The most exciting and humbling moment for me was during my dissertation writing. My MSC supervisor, Dr. John Scullion, gave me the best that he could, in guiding and timely reviewing my work. He always reviewed and sent back his comments within 24hrs; an experience I will never forget. The organization and orderliness of student events and activities were high-notch. The respect, decorum, and civility exemplified by both the university administration and the student population was amazing. Aberystwyth University is a place of class, academic excellence and where merit is king. My accommodation was the best, staying at the seafront, an experience I will never forget. I graduated having gained the best in my academic pursuit and more importantly having experienced in its highest measure, what a world-class university can offer. Networks with students from all over the world and sharing the richness of cultural diversity, in what I consider to be an exceptional and extraordinary platform, where I felt as if I was everywhere in the world."
Agents
IDP
2nd Floor Euro Towers, 27 Muthithi Road, Westlands Nairobi
Tel: +254 752 092 287 / 0729129799
Email: info.nairobi@idp.com
Website: www.idp.com/kenya
KenyanNurse
P.O Box 3071, Eldoret
Tel: +254 716 192 248
Email: info@kenyannurse.com
Website: www.kenyannurse.com/
SI-UK (Mombasa)
Second Floor, Amal Plaza, Links Road, Nyali, Mombasa 84453-80100
Tel: +254 (0) 780 450 642
Email: mombasa@studyin-uk.com
Website: www.studyin-uk.co.ke
SI-UK (Nairobi)
G-01, Madonna House, Westlands Road, Westlands, P.o Box 12830-00400 Nairobi
Tel: +254 (0) 755688242/47/53
Email: nairobi@studyin-uk.com
Website: www.studyin-uk.co.ke
World Student Advisors (Mombasa)
Tel: +447459720726
Email: suzan.bebora@worldstudentadvisors.com
Website: www.worldstudentadvisors.com
World Student Advisors (Nairobi)
Tel: +447470689849
Email: eldah@worldstudentadvisors.com
Website: www.worldstudentadvisors.com