Youth Sports Weekend: Beca's Blog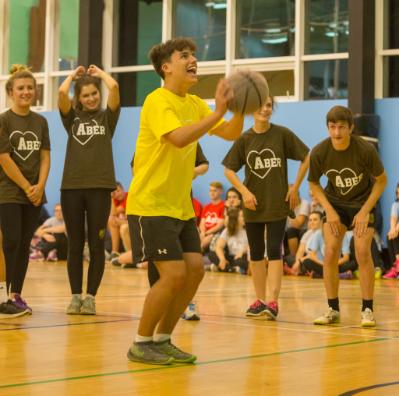 Members of the group enjoying the activities
By the end of the weekend, the group had gained a variety of sporting qualifications allowing them to assist or organise their own sessions in the future.
Here's what Beca, from Llanrug, had to say about her experiences of the weekend:
"Hi! My name is Beca, I live in Llanrug which is close to Caernarfon, I'm 16 years old and I've just started sixth form studying Drama, Religious Education and Physical Education.
At the start of September 2016, I attended a training weekend with the Urdd Sports Department. I'd heard about the weekend initially from Carwyn, one of the officers from the Urdd's Sports Department who came to our school to promote the course. The course sounded great! A chance to stay two nights in Aberystwyth University with young people from all corners of Wales, gaining a qualification for training primary school pupils, a bus down to Aberystwyth and back, and food! All for £20! Nice one!
So, by following Carwyn's instructions, I sent an application to the Urdd and soon afterwards I received an e-mail confirming that I had a place on the course.
On Friday 2 September, before leaving Bangor for Aberystwyth University, I had no idea what to expect… It was the end of the summer holidays and my fitness levels were at their lowest so I wasn't ready for an intense session, hill sprints, bleep tests and I wasn't even sure if I knew how to hold a biro any more, let alone use it.
There was no need to worry! There were no hill sprints or boring lectures! Soon after we arrived, everyone was sorted into teams. I was in the orange team with a group of lovely girls from Ysgol Gyfun Garth Olwg School and we quickly became friends. After we had eaten too much food in the 'Tamed Da' canteen on campus, we went straight down to start on the Champion Challenges.
The Challenge games ran all through the weekend, with every team winning points. There was seven different rounds, - swimming, kayaking, tug of war, basketball, sprinting, dodge ball and tag rugby. The staff team were REALLY competitive! You can take a look at the photos from the games on Twitter by using #UrddAber2016. Although the orange team didn't succeed in winning the gold medal at the end of the weekend, I had a lot of fun taking part in the games. The games were an excellent way of getting to know people quickly and a really good ice breaker.
The weekend wasn't all about the games – we had to work towards the training qualifications. I gained three qualifications at the end of the course and these qualifications will allow me to host/co-host Urdd sessions in my local community. I have already put my name down for netball sessions as this is my main sport. Of course, any qualification looks good on the CV but a qualification for training school pupils is going to open all sorts of doors for me in the future hopefully, such as helping me to get on sporting course in University, for example at Aberystwyth University, helping me get a job working with children, or even working with the Urdd.
One of my favourite things about the weekend was the Fferm Penglais location. Everyone had a room to themselves with a double bed and bathroom with a shower! There was a kitchen on every floor with a television and sofa and that's where I spent the two evenings, with my new friends, eating Doritos and drinking tea. There's fun to be had! Thank you Aberystwyth University! Thank you to the Urdd! It was class!"