Youth Sports Weekend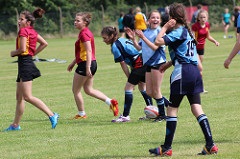 A group of young people taking part in Urdd activities
For the first time ever, a special training weekend for young people aged 16-18 years old will be held by the Sports Department of Urdd Gobaith Cymru in partnership with Aberystwyth University.
A group of 100 young people from all over Wales will spend 2-4 September 2016 on the Aberystwyth University campus learning how to become coaches in Urdd sports clubs.
By the end of the weekend, the group will have gained a variety of sporting qualifications which will allow them to assist or organise their own sessions. They will also have had a chance to get to know some of the Urdd sport staff who run activities in their local areas.
This is the latest in a series of activities organised as a result of a new partnership between Aberystwyth University and the Urdd Sport Department which aims to offer new opportunities and to promote sports through the medium of Welsh.
Dewi Phillips, Schools and Colleges Liaison Officer at Aberystwyth University, said: "Aberystwyth University is pleased to be the main partner of the Urdd Sports Department and we look forward to welcoming students from across Wales to join us here at the University for the weekend to gain numerous Sporting qualifications that will be a big help to their careers and their future."
"The opportunities offered by the Urdd Sports Department are extremely valuable to young people in Wales and a number of our current students have benefitted over the years as a result of this. The weekend also gives students an opportunity to experience our second to none sporting facilities that we have here at the University. There is something for everyone, including a 3D pitch with floodlights, swimming pool and sauna, gym, free weight gym, spinning room, dance room, climbing wall and over 50 acres of sporting fields and more."
Gary Lewis, Director of the Urdd Sport Department said, "We are thrilled that our partnership with Aberystwyth University has enabled us to offer this weekend for young people. For our sport clubs to thrive, we have to be constantly recruiting young people to assist in them. We need the support of these enthusiastic young people if we want to see our clubs going from strength to strength.
"It is also a great opportunity for us to inform young people that are interested in sports about our apprenticeship scheme. We've got 15 new apprentices starting with us in September, with five staying for their second year."
The partnership between the Urdd Sport Department and Aberystwyth University was launched in January 2016 and it also includes a financial contribution by the University to sponsor staff kit, support and development of new community initiatives and office space for a new sports officer.