£3.7 million awarded to international consortium led by Aberystwyth scientist to combat flatworm infections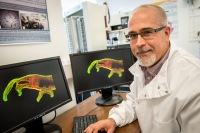 Professor Karl Hoffmann, Professor of Parasitology at IBERS
The Wellcome Trust, the UK's largest private funder of biomedical and veterinary research, has awarded a 5-year, £3.7M Biomedical Sciences Strategic Award to an international team of scientists from the UK, Germany, France and the USA led by Professor Karl Hoffmann at Aberystwyth University's Institute of Biological, Environmental and Rural Sciences (IBERS).
The project entitled 'the Flatworm Functional Genomics Initiative (FUGI)' will develop game-changing research tools for the study and manipulation of parasitic flatworm species responsible for the devastating diseases echinococcosis (hydatid disease) and schistosomiasis (bilharzia), and is set to propel flatworm research into the 21st century.
Professor Hoffmann has won the funding in collaboration with Dr Matthew Berriman at the Wellcome Trust Sanger Institute (WTSI), Dr Ludovic Vallier at the University of Cambridge, Professor Christoph Grunau at University of Perpignan and the Centre National de la Recherche Scientifique (CNRS), Professor Klaus Brehm at the University of Wuerzburg, Dr James Collins at the University of Texas Southwestern Medical Center, Professor Christoph Grevelding at Justus-Liebig-University Giessen and Professor Paul Brindley at George Washington University.
On winning this prestigious award Professor Hoffmann commented "We are incredibly pleased that the Wellcome Trust has selected our team to develop these cutting-edge resources, which will revolutionise our ability to study and manipulate parasitic flatworms including blood flukes and tapeworms.
"Creation of these molecular and cellular tools will attract new investigators into our field and increase the rate and number of significant biological discoveries; many of which will lead to the identification of novel control strategies.
"Parasitic flatworms cause some of the most debilitating infectious diseases on our planet and are responsible for significant and oppressive burdens in both humans and livestock. While existing control is primarily based on chemotherapy, there is a real risk that this strategy is unsustainable due to the generation of parasites resistant to the limited drugs currently being used."
Significant investment by the Wellcome Trust in flatworm genome sequencing projects over the past 20 years has provided a critical boost for research in this neglected area.
These initiatives are beginning to transform the field of helminthology (the study of parasitic flatworms) and offer hope that new strategies for controlling these infectious diseases will soon be identified.
However, as Professor Hoffmann cautions, "The challenge facing researchers mining flatworm genomic information is the lack of suitable tools to effectively characterise the function of flatworm gene products and translate this information into urgently needed drugs or vaccines that can be used within both biomedical and veterinary arenas. This is severely hampering research progress".
To overcome this challenge, Professor Hoffmann and his research collaborators in the FUGI project will generate the very first tools to functionally manipulate parasitic flatworm genomes using the genome-editing, CRISPR/Cas system.
These techniques will enable the flatworm community to conduct the gene-level investigations necessary for fully understanding how each gene participates in the complexities of flatworm development, host interactions and the development of disease.
The FUGI consortium will also use their combined expertise to create flatworm stem cells that will, for the very first time, allow investigators to study flatworm biology in the lab, without the need for maintaining complicated parasite lifecycles in an animal host.
Together, the creation and application of such transformative tools will allow helminthologists to make tremendous strides towards developing urgently-needed, next-generation anthelmintic drugs and vaccines.
Never before has such a diverse team of international experts been brought together in this way to combat the debilitating diseases caused by flatworm parasites.
By producing new translational tools and resources, FUGI researchers will provide the helminth community with the flexible experimental systems that are urgently needed if they are to finally stop the devastating effects of these pathogens on both human and animal populations.
Dr Michael Chew, Science Portfolio Advisor at the Wellcome Trust, said: "Parasitic worms cause serious illness and long-term disability throughout the developing world, yet progress on new treatments and vaccines has been frustratingly slow. FUGI is set to change this, by enabling scientists to manipulate flatworm genes in the lab for the first time. The ultimate aim is to identify chinks in the flatworm armour that could be targeted with new medicines that help eradicate the devastating diseases they cause."
Professor Mike Gooding, Director of IBERS said: "I am delighted about the award of this grant which reflects much of the strengths at Aberystwyth targeted at improving the health of animals and people. We are particularly pleased to receive this support for work that directly links cutting-edge biology with real-life benefits for society. The project demonstrates the value of our international collaborations and partnerships for providing global expertise and impact."