IBERS heads to Great British Bioscience Festival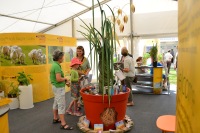 The Institute of Environmental, Biological and Rural Sciences (IBERS) will be exhibiting at the Great British Bioscience Festival from Friday 14th to Sunday 16th November.
A team of researchers from Aberystwyth University will be heading to east London to bring you the best of British Bioscience.
The Great British Bioscience Festival is the culmination of a year-long tour, enabling visitors to explore the fascinating world of biology through interactive science exhibits from real scientists.
Dr Athole Marshall and team will be showcasing their exhibit 'Food, environment and energy – grass secures their future' at the festival in Museum Gardens, Bethnal Green, London.
Dr Marshall said; "On 14-16 November, our exhibit will be to be showcased at BBSRC's Great British Bioscience Festival. Visitors will be able to learn about why grass is more important than people might think. Visitors can come and see how our bio-scientists are working to understand the secrets of grass and how they can breed different varieties for different uses."
The exhibit is based around a giant interactive 'super-plant' structure made up of ryegrass, oats and Asian elephant grass.
This free festival is suitable for all the family, with over 20 exciting and interactive displays on offer.
Professor Jackie Hunter, BBSRC Chief Executive:"The Great British Bioscience Festival will be a unique chance for BBSRC and our scientists to bring awe-inspiring bioscience research to east London. A variety of entertaining and engaging exhibitions will be on offer, highlighting the best of BBSRC-sponsored world-leading bioscience. "
For more information on all the exhibits heading to the Great British Bioscience Festival visit: www.bbsrc.ac.uk/gbbioscifest.
The Great British Bioscience festival is brought to you by BBSRC in partnership with LND Science Festival.
Keep up to date with the latest festival news on Twitter using the hashtags #GBbioscifest and #LSF14.