Aberystwyth University secures place in €2.1bn consortium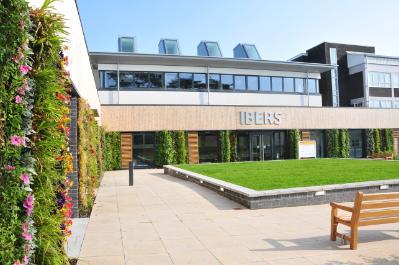 The Institute of Biological, Environmental and Rural Sciences at Aberystwyth University has secured a place in InnoLife, a consortium of 144 European companies, research institutes and universities allowing access to applications for €2.1bn of European funds.
InnoLife has been selected by the European Institute of Innovation and Technology (EIT) as the Knowledge and Innovation Community (KIC) for EIT Health. With a total fund of €2.1 billion, it is one of the largest public funded initiatives for health worldwide.
InnoLife aims to contribute to increasing the competitiveness of European industry, improve the quality of life of Europe's citizens and the sustainability of the healthcare system. The partnership will promote entrepreneurship and develop innovations in healthy living and active ageing.
Aberystwyth University is an Associate Partner in the consortium, which will mean that the University will now be able to participate in funded education, research and business initiatives, the only University in Wales to be in this position.
The UK partners and associate partners include Imperial College London; Intel; Newcastle University; Medtronic; Trinity College Dublin; University of Oxford; West Midlands Academic Health Science Network (AHSN); Abbvie Ireland; AstraZeneca; BioInnovate; Healthbox; Imperial College Health Partners; Nuffield Health; North West Coast AHSN; OBN; Oxford AHSN; Procter & Gamble; Red and Yellow Care; and the University of Cambridge.
Professor Chris Thomas, Pro Vice-Chancellor for Research said: "This is fantastic news for the University and IBERS. Being able to work alongside leading European Universities and businesses to develop funding proposals that will enable us to develop solutions to some of society's most pressing health issues is immensely important. I look forward to working with colleagues in Aberystwyth and Europe to further develop our proposals for consideration."
Aberystwyth University's research contributions to the project are expected to focus on current areas of academic strengths including projects on food, diet and nutrition, exercise, and biomarkers.
An integral part of EIT Health is the InnoStars concept to widen participation for partners in Hungary, Poland, Slovenia, Croatia, Portugal and Wales.
After signing a framework contract with the EIT, EIT Health expects activities to start by mid-2015. The EIT will provide EIT Health with around €80 million annually (between 2015 and 2020) for the funding of new collaborations, education and projects.