Organic information service back in business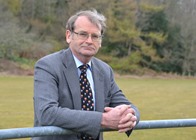 Neil Pearson, OCW Centre Manager
The Organic Centre Wales (OCW) partnership of Organic Research Centre (ORC), ADAS and Aberystwyth University will have an even bigger presence at this year's Royal Welsh Show after their successful bid to deliver organic policy advice and other services to the Welsh Government from 2013-2015.

Situated in their annual position within the Countryside Care area (Stand CCA793), OCW will be delivering elements of the new advisory contract, as well as featuring displays on recent supply chain projects, and will again be joined by organic certification bodies.  In addition OCW will be delivering daily cooking demonstrations as part of their Better Organic Business Links (BOBL) project, in the new 'Food and Drink Wales' building (Stand E395).

A major focus for the advisory service will be the development of the new Welsh Organic Farming Scheme.  Staff members from across the partnership have already started talking to key organic and other stakeholders to gain their feedback on the current support mechanisms; identifying the successes and potential issues that need to be considered in any future scheme.

Professor Nic Lampkin, ORC Director, said: "We are delighted to be delivering this service to support the development of organic farming in Wales.  Working with organic businesses every day we are all too aware of the need for new schemes to be developed following the lessons learnt directly from farmer; in order to successfully support hard working organic producers and give them greater certainty in the future."

Recent stakeholder discussions on future Welsh organic policies will be reviewed during the OCW seminar at this year's Royal Welsh Show, 22nd -25th July in Builth Wells. The 'Building a future for organic farming in Wales' event is being held in the Aberystwyth University Education Pavilion at 2:30pm, led by Professor Nic Lampkin of the Organic Research Centre.

Throughout the Show, discussions with producers on technical, market and policy issues will continue as OCW return to the Countryside Care area of the show ground and host their new forum 'Cymru Organig Conversation'. These discussions will also input into proposals for the new organic scheme, which will be released for consultation by the Welsh Government in autumn 2013.

Neil Pearson, OCW Centre Manager said "Our discussions at the Royal Welsh show offer organic producers a real chance to have their say on the future schemes available to them. Staff will be on hand on all four days of the show and we hope that producers take up this opportunity."

Further activity under the advisory service will be happening throughout 2013 and more details can be found in the re-launched OCW magazine 'Cymru Organig', copies of which will be available in OCW's marquee in the Countryside Care area.