Engaging with science and the public imagination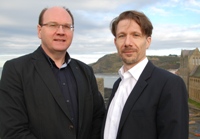 Professor Nigel Scollan (left), Professor of Public Engagement with Science, and Professor Richard Marggraf Turley, Professor of Engagement with the Public Imagination
Following a high level appointment process, the University has appointed Professor Nigel Scollan as Professor of Public Engagement with Science and Professor Richard Marggraf Turley as Professor of Engagement with the Public Imagination.


Both roles will focus on encouraging public participation in all aspects of University activities – from leading research to policy development, discussion on how the University works and active participation in knowledge exchange. 

The Professors will lead the University's drive to encourage greater involvement in University events and assist in developing an Open Day for people in Ceredigion.


Professor Nigel Scollan joined the Institute of Grassland and Environmental Research in 1993 and subsequently Aberystwyth University in 2008. He holds the Waitrose Chair of Food and Farming at the University's Institute of Biological, Environmental and Rural Sciences (IBERS). 

Professor Scollan heads up a research group on Animal Systems and is leading Aberystwyth University's role in the creation of a unique industry and academia initiative to help support farming in the UK, the Centre of Excellence for UK Farming. 


Commenting on his appointment, Professor Nigel Scollan said: "This is an excellent opportunity to build on the brilliant work the University does in research and teaching and examine innovative and creative ways of working more closely with the public". 

Professor Richard Marggraf Turley from the Department of English and Creative Writing is Co-Director of the University's Centre for Romantic Studies, and the winner of the 2007 Keats-Shelley Prize for poetry. 

On being appointed as the first ever Professor of Engagement with the Public Imagination, he said: "Aberystwyth has seized the initiative for creating a genuinely vibrant public connection." He added that his new title was "the coolest in academia, and a fantastic platform.


Vice-Chancellor Professor April McMahon said: "I am very pleased that we have been able to appoint both Richard and Nigel to these important roles. Public engagement is vital to our University. We recognise the valuable contribution our local and global communities make to the development of our institution, ensuring our research makes a difference, our policies are fit for purpose and our services meet their needs. We are fortunate to have some excellent examples of highly innovative engagement work going on already, and I'm sure both Richard's and Nigel's wealth of experience in public engagement and research will help us build on these initiatives."