Experts make the connections to produce more from less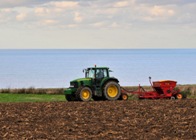 Sowing winter wheat
The conference: 'Producing more from less – new metrics for sustainable agriculture' takes place in Birmingham on 16-17 January and is hosted by The Centre of Excellence for UK Farming (CEUKF) and the Agriculture and Horticulture Development Board (AHDB).
With the universal challenge of climate change and the need to improve resource-use efficiency there is an increasing interest in how to compare and reduce the environmental impacts of agricultural production systems whilst continuing to meet the demand for affordable, safe and nutritious food. It is widely recognised that this can only be achieved by working collaboratively throughout the food chain.
Over 100 delegates will take stock of current national and international work, share perspectives and identify ways to promote a consistency of approach in a series of sessions during the two-day conference.
Speaking on behalf of the conference organising team, Professor Nigel Scollan said: "This is an excellent opportunity that brings together leading thinkers and practitioners to assist in providing direction towards agreement on the best ways of measuring the sustainability of supply of different foods, from on-farm production through the supply-chain to consumer".
Ian Crute, Chief Scientist of AHDB and also one of the organising team emphasised that: "Sustainability is not about warm words and good story-lines that enable firmly-held beliefs to be reinforced and marketed. It's all about measurements, analysis, the digestion of facts that are sometimes unpalatable and a willingness to change direction. The UK food industry is well-placed to lead the field and I expect this conference to be catalytic in facilitating a convergence of views about the way forward."
Conference speakers include:
Pierre Gerber - Food and Agriculture Organization of the United Nations
Tim Benton - BBSRC UK Champion for Global Food Security
Ian Crute - AHDB - Agriculture and Horticulture Development Board
Jonathan Thomas - Leatherhead Food Research
Kathleen Lewis - University of Hertfordshire
Jonathan Hillier - Aberdeen University
Bob Rees - Scotland's Rural University College
Alberto Garrido - Polytechnic University of Madrid
Caroline Drummond - LEAF – Linking Environment and Farming
Ray Keatinge - DairyCo
Eileen Wall - Scotland's Rural University College
Markus Frank - BASF Group, SE
The conference takes place from 2pm on 16 January until 1pm 17 January at The Best Western Plus Manor Hotel, NEC, Birmingham, CV7 7NH. Presentations and information will be available on the CEUKF website following the conference.