Suzanna Gwyn-Thomas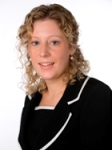 Suzanna Gwyn-Thomas graduated from Aber in 2001 with an LLB and then went on to study for an LLM in commercial law, before completing the Legal Practice Course and undertaking a training contract with Allen & Overy, an international law firm. Suzanna spent over six years at Allen & Overy, having qualified as an Associate in to the corporate department of the London office, where she was involved in a broad range of corporate deals, including private and public mergers and acquisitions and initial public offerings. Suzanna is now an in-house lawyer in the EMEA equity capital markets and M&A legal transactions team of a premier global investment bank.
What do you remember most about your time at Aber?
Above all, I remember the sea and friendship. The sea was the common denominator of life at Aber and provided the backdrop upon which many friendships played out; whether it was taking a calming walk along the sea-front with a fellow law student the night before an exam, being blustered by the winter winds en-route to one of the many sea-front bars with a flatmate, or just meeting friends on the beach for fish and chips at sunset.
Aber's location is purely unique. I always knew I would probably end up living and working in London, so the chance to delay city life for a few years was very appealing. The small, friendly, non-pretentious sea-front town, contentedly nestled between the mountains and the shore, is certainly a far cry from the big smoke and provided the foundation for achieving a very balanced life.
What are you doing now career wise and how has your Aberystwyth degree helped?
I am now an in-house corporate lawyer for a global investment bank. My first taster of company law was at Aber. The breadth of subjects available on the LLB course enabled me to supplement this interest with other commercial legal modules. I was also fortunate enough to participate in an ERASMUS scheme, whereby I spent six months studying international and European commercial and business law at the University of Tampere in Finland. Not only was this hugely enjoyable, but the experience of living in another country and culture helped prepare me for the six months I spent working in Allen & Overy's Singapore office.
What advice would you have for a student doing your course now?
Play hard, but also work hard. If you want to pursue a career at a city law firm getting at least a 2:1 is key. Having said that, enjoy it.The LLB course at Aber is extensive - make the most of it. Study legal subjects that you genuinely find interesting rather then just focusing on areas you feel obliged to follow. Take advantage of the expertise of the tutors. They are friendly, very approachable and there to help you. Above all, stay balanced. Law firms want to employ people who not only have strong academic credentials but who also have other interests outside of the law and Aber is the perfect place to find such interests.