Imsal Shahid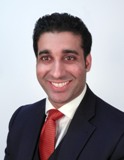 Imsal Shahid graduated from Aber with an LLB, before undertaking the Legal Practice Course in Birmingham. He is now Legal and Commercial Director at an internationally renowned company.
What do you remember most about your time at Aber?
Aberystwyth's mesmerizing coast looking onto the beautiful sunsets. I also found there is a real strong sense of community and belonging in Aber. The students and locals are very friendly and from the very first day you are made to feel at home.
What are you doing now career wise and how has your Aberystwyth degree helped?
'Aberystwyth University is probably the best place in the world to be a student'. This is a statement made by the Student Barometer; a statement that I and many of my friends agree with.
Aberystwyth University was my first choice when deciding where to undertake my undergraduate law degree. This was due to its excellent reputation and the fact that it was, and still is, ranked as one of the leading law schools. I can say with confidence that my choice was the right one.
I found Aberystwyth University gives particular importance to an undergraduate's development in the personal and intellectual skills demanded by employers, which means better opportunities for the future.
After graduating, I went on to undertake the Legal Practice Course at the University of Law. I then undertook my training contract where I spent a year in the commercial department before qualifying as a solicitor.
What advice would you have for a student doing your course now?
The best thing about being at university is really finding yourself as a person. Aber is a brilliant place to do this too, as it's a beautiful town with a great range of people to meet and socialise with. The student lifestyle in general is amazing, since despite there being intellectually stimulating work to be getting on with there's also a great emphasis on having a good time and getting involved in as much as possible.