Harry Dennis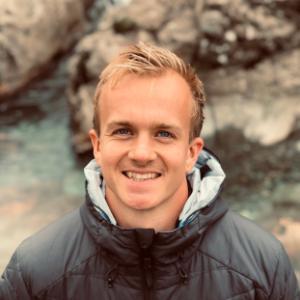 Harry Dennis graduated with a BSc in Marine and Freshwater Biology in 2014.
What do you remember most about your time at Aber?
For someone who loves spending time in the sea and the outdoors, Aberystwyth was just such an incredible place to be. My best memories are of storm chasing winter swells up and down the Ceredigion coastline looking for surf.
What are you doing now career-wise and how has your Aberystwyth degree helped?
I initially continued with a career in marine ecology research, however, I soon became interested in taking action around the plastic pollution threat to our oceans. In 2017, I transitioned into a research, communication and policy role at a leading marine conservation charity focused on the plastic pollution issue, before founding the social-enterprise Waterhaul in 2018. It's mission is to tackle the problem of abandoned fishing gear in the ocean by transforming this plastic 'waste' into a resource. We recycle recovered ocean plastic from the UK coastline into products to inspire people to connect with, and protect the ocean: in the form of our recycled sunglasses and litter pickers.
I was always passionate about combining my entrepreneurial interests with my academic research of the marine environment. Aberystwyth helped me put this into practice – not only through learning research skills during my degree but also through it's entrepreneurship programs such as the Inventerprise competition which I was part of.
What advice would you have for a student doing your course now?
Find out which aspect of your field really interests you, how it's going to develop in the future, and pursue it hard! And make sure you tap into the incredible network of support and connections which are at your fingertips at the University (you only realise how valuable this is once it's no longer there!).