Geoff Richards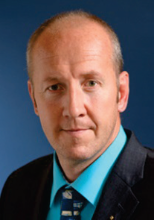 Geoff Richards graduated in Cell and Immunobiology within Biological Sciences in 1990, M.Sc. Biological Electron Microscopy 1991 and later externally from Switzerland a PhD in Cell Adhesion to implant surfaces in 1997. Geoff is now Director of one of the world's leading research Institutes in orthopaedics in Davos, Switzerland.
What do you remember most about your time at Aber?
I loved my course, one of the most intense in lectures and practicals, but that was great for me. Both the lecturers and their technical support for the practicals were real teachers wanting to see the students learning and enjoying their courses. They cared and were really motivating to help my career. I am still close friends with my mentor throughout my time at UWA, Dr Iolo ap Gwynn who was a cell biologist and ran the biological electron microscopy unit. I had a great social life in Aber and was a member of many clubs from Rugby, Biology field hockey and squash to windsurfing. I also had the pleasure to play for Aberytwyth town (seconds) for a season. Along with this I worked on the security team for the student's union and went with team members taking medical supplies to Romania in 1990 after the revolution there. I lived in Pantycelyn, Cwrt Mawr and eventually above the Mill Inn in town, so tasted many cultures while there (as Cwrt Mawr was full of Malaysians and people from Iraq, Israel and other cultures when I was there without issues). I have many friends from Aber and keep close contact (nowadays through social media, but it works).
What are you doing now career-wise and how has your Aberystwyth Degree helped?
It is very unlikely I would be where I am now if I had not been at Aber. My specialist degree and masters really set me onto a unique path from the bottom of a world class research Institute as a PhD candidate to director of the AO Research Institute Davos, the world's foremost orthopaedic research institute, housing 100 scientists who undertake cutting-edge research in regenerative medicine, tissue engineering, biomaterials and implant science from 2009. I have worked with Dr.Iolo ap Gwynn on many scientific projects and since my PhD I received numerous students from Aber that studied for their masters or PhD's through Aber (10 masters and 5 PhD's) until Dr Iolo ap Gwynn retired. Iolo and I co-founded arguably the first online only open access journal in the world (ecmjournal.org) and initiated open peer review (both now standards of publishing), yet we also walk up mountains together in Switzerland and when I am in Wales. This keeps me very close to Aber and Wales.My PhD through Aber (and several of the other ones I ran through Aber) helped me to translate major improvements in the design and manufacture of fracture fixation products, leading to vastly improved clinical outcomes of pateients world-wide. My Aber degree built on my enjoyable school years in Llanfyllin in Wales and together are some of the pillars holding the foundations of my work and career.
What advice would you have for a student doing your course now?
Enjoy your course, you do not have to have a clear goal in life- I did not, but it grew naturally from what I enjoyed- science and team work which the Uni clubs brought to me. University is a good time to cement your values in life which stay with you forever, despite that you have likely just left home and have to become responsible for yourself. Turn up to all your lectures, listen and respect your educators. When out of lectures in free time enjoy your time in Aber – participate in Uni clubs and volunteer to help them (give and take). Enjoy the beautiful countryside in and around Aber from Borth which you can walk or cycle to, right up to cadair Idris, Bala and beyond. This surrounding countryside is something you will keep in memory for ever. Consider staying a summer and interact with the town folk, I loved my summers there towards the end of my degree and during my masters. Aber has a lot to offer.