Veterinary Education Centre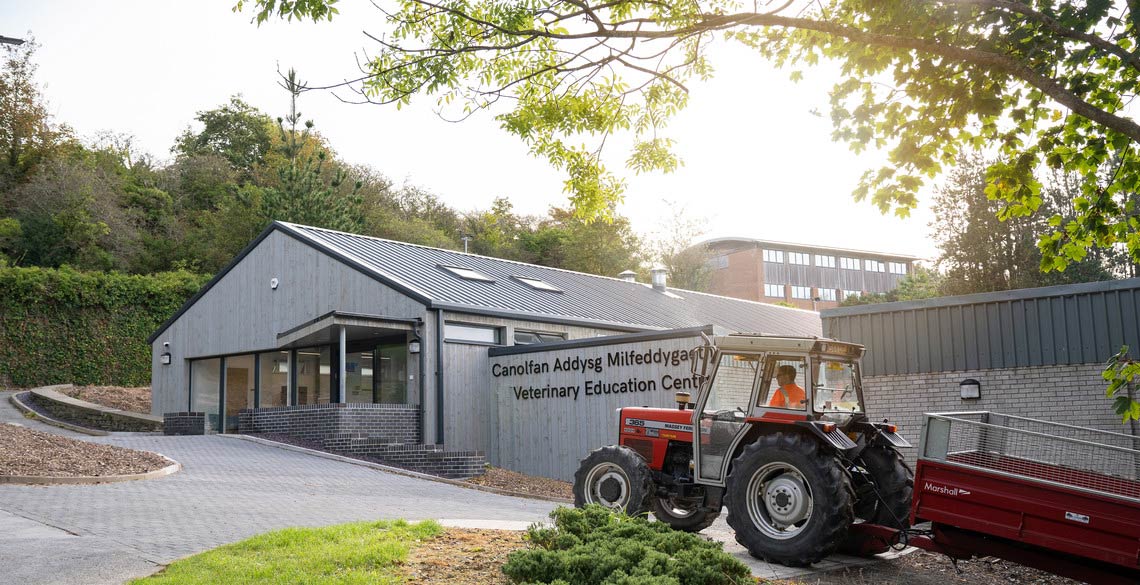 The first two years of the BVSc Veterinary Science degree will be taught in the Veterinary Education Centre, located on Penglais Campus.
The Veterinary Education Centre welcomed its first cohort of students in September 2021.
The Veterinary Education Centre provides clinical skills and companion animal handling training rooms, facilities for teaching anatomy and areas for students to discuss and prepare before classes.
In addition to Aberystwyth's strong laboratory-based facilities on Penglais Campus and the Veterinary Education Centre, other facilities of relevance to the BVSc course include:
Lluest Equine Centre
The Equine Centre is a purpose-built teaching facility and a British Horse Society (BHS) Approved Training Centre situated on Llanbadarn Campus.
There are 20 stables available for DIY livery, 13 of which are top quality lodden boxes.
There are grazing paddocks within close proximity to the stables, all of which are well fenced and easily accessed.
Facilities include:
• International-sized indoor arena (60x30m with a Combi-Ride waxed surface)
• Outdoor arena (60x30m Combi-Ride sand and fibre mix)
• Horsewalker and round pen
• Loose boxes and demonstration boxes
• Full set of show jumps and fillers.
Pwllpeiran
The Pwllpeiran Upland Research Centre is a centre for the study of upland farmed ecosystems located in the heart of the Cambrian Mountains, West Wales, and home to a family of alpacas.
Pwllpeiran is a microcosm for upland areas and is the only such facility in England and Wales. Its research is crucial to ensuring a robust evidence base for policies at a time of unprecedented political, economic and environmental change.
University Farms
The university farms based at Gogerddan (sheep and beef farm), Morfa Mawr (lowlying pasture), Trawsgoed (dairy farm) and Pwllpeiran (upland) extend to over 800 ha in total, and range from 0-600 metres above sea level. Between them, these four sites exploit the geography of West Wales to provide a spectrum of environmental challenges that are broadly representative of the growing conditions of approximately 80% of UK grasslands.
Our farms act as innovation sites for the Welsh Government's knowlegde transfer service to the industry. Trawsgoed houses around 420 dairy cows with all year round calving and state-of-the-art robotic milking systems, while Gogerddan, Pwllpeiran and Morfa Mawr are home to flocks of upland and lowland sheep and herds of beef cattle.