Welcome Hong Kong SAR
If you have any questions about applying to, studying at, or living in Aberystwyth, please contact the regional officer for your region:
Contact: Victoria Conroy
Email: vic11@aber.ac.uk
Phone: +44 (0) 1970 62 2905
Entry Requirements
Entry Requirements

Foundation

The entry requirements for the Foundation programme are as follows:

Hong Kong Diploma of Secondary Education: a minimum score of 3,2,2 to 3,3,3 in relevant subjects is required in the HKDSE for entry onto the programme (including Mathematics for Computer Science and Business Foundation Pathways)

IELTS: Score of at least 4.5 - some courses require a score of 5.0 with only one grade at a 4.5.

Undergraduate

Hong Kong Diploma of Secondary Education:

Minimum Level 3 required in 5 x subjects.
Where there is a subject prerequisite, such as science-based subjects, a minimum of Level 4 must be achieved in a relevant HKDSE subject.


International Baccalaureate Diploma: A score of between 28-32 is required depending on the subject of interest.

UCAS Tariff: 104-120 points.

Postgraduate

You will be required to have a relevant Bachelor's Honours degree from a recognised institution, with a grade of at least a high 2.2 or above to qualify for Aberystwyth University's postgraduate taught programmes.

For specific requirements, please refer to the Postgraduate Admissions Office website.

English Requirement

HKDSE: Level 4 in English

or

IELTS score of at least 6.0 - 7.5

If you require help or assistance with your English then our International English Centre will be pleased to offer assistance and guidance. The Centre offers an intensive full-time course available before you commence your degree and provides ongoing support throughout the duration of your studies
Please note each course may require specific entry grades from the qualifications highlighted above. Some courses may also require an additional portfolio or interview.
Student Profiles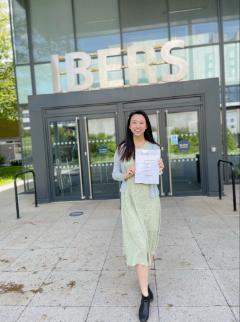 Abbey Chan
(BSc Veterinary Biosciences & MRes Parasite Control)
What do you love about Aberystwyth and Aberystwyth University?
I love the environment and atmosphere Aberystwyth provides the best, especially during summer, it feels like you're in a completely different place!
What have you enjoyed most about your course?
I have been incredibly lucky that I had very supportive and encouraging tutors during my courses, and the connections I made with my lecturers made me enjoy the courses a lot more and overcome my shyness when it came to asking questions about the materials taught.
How did you find adjusting to life in Aberystwyth?
At first, I was feeling homesick being so far away from home. But making a lot of friends through my classes and extracurricular activities helped me feel more comfortable and at ease at Aberystwyth.
What advice would you give someone considering studying at Aberystwyth University?
Take any opportunity you can get, sometimes you have no idea what you would be missing out on if you don't take the initiative!
Have you joined any student clubs or societies and what have you enjoyed about them?
During my bachelors, I decided to restart the Animal and Veterinary Society with a few of my friends and have been on the committee ever since, I'm also an active member of the Showdance sports club since my first year at University. My favourite thing about joining a society or a club is having the opportunity to socialise with people at university who are in different years and doing different degrees, it's such a great way to make friends with common interests as well!
Alumni Profiles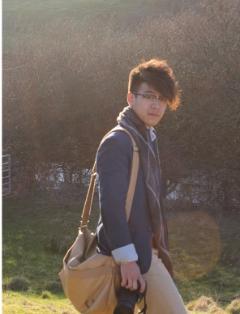 Linus Hui Kai Hei
(BSc Tourism Management)
"With a spectacular seaside view and cosy atmosphere, Aberystwyth is one of the best environments in the UK to keep you focused on your study. Studying at Aberystwyth University is one of the best times in my life, where I had the chance to excel in my academics while having met with my life-long friends. Big thanks to my tutor Carl, who had guided me, besides my study, on independent and critical thinking during the three years of study, which is beneficial for a lifetime and improves my career in the insurance industry. For those of you who are about to pursue your study at Aber, I'd suggest you get yourself ready to start your wonderful university time in a frosty town! Do make sure you can cook homestyle dishes to treat yourself when you miss home! I'm currently working in a Ship Management Company as an Insurance Executive."