Launch of Ireland-Wales project on effects of climate change on coastal bird habitats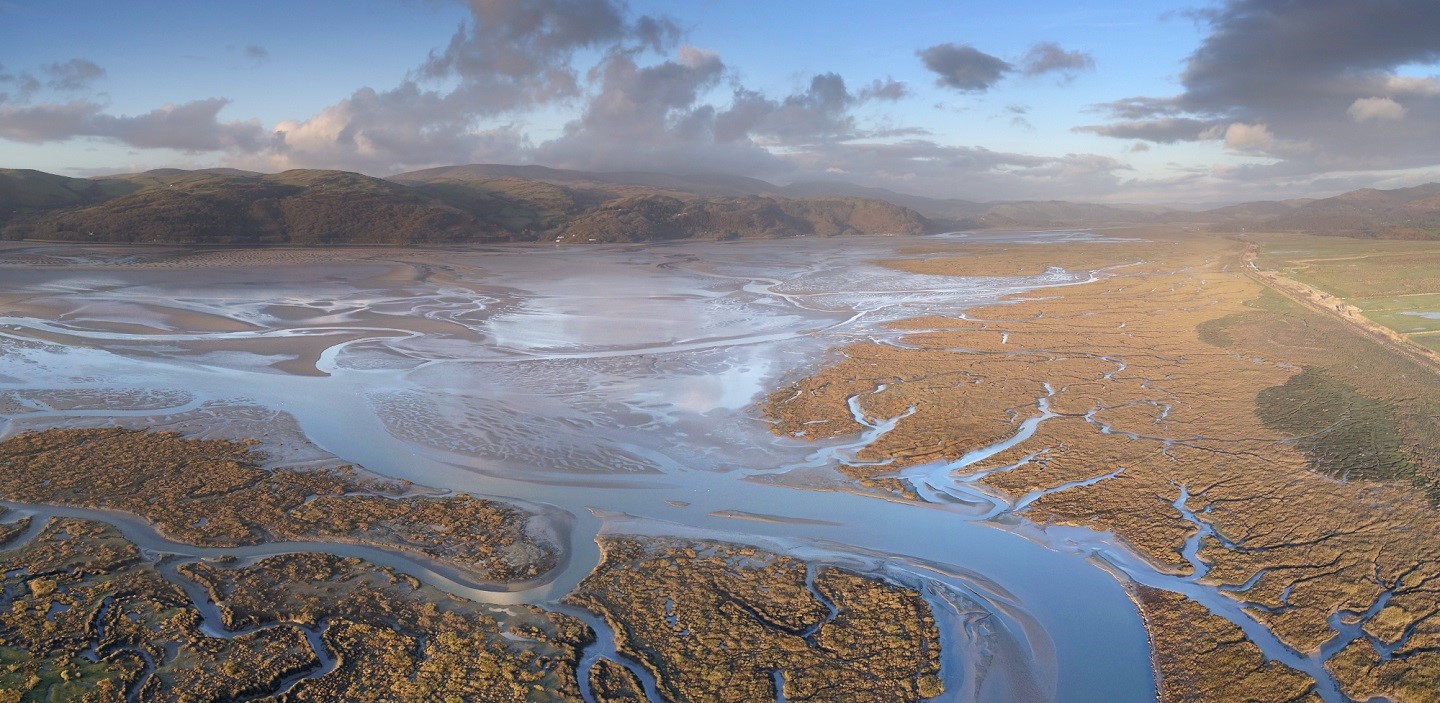 The Dyfi Estuary in Mid Wales is an important habitat for coastal birds and will be a key location for researchers working on the ECHOES project. Photo credit: Scott Waby
A major study looking at the effects of climate change on the habitats of two species of coastal bird in Wales and Ireland will be officially launched on Thursday 23 July 2020.
The ECHOES project (Effects of Climate Change on Birds around the Irish Sea) has been awarded more than 2.6 million Euros by the Ireland Wales INTERREG Programme of the European Regional Development Fund (ERDF).
The three-and-a-half-year study brings together researchers from Aberystwyth University and University College Cork, with partners Compass Informatics, the British Trust for Ornithology, and Geo Smart Decisions.
The official launch will be held digitally at 2.30pm on Thursday 23 July 2020 and will be accessible as an online webinar with registration via echoesproj.eu/get-involved/events.
Welsh Government Minister for Environment, Energy and Rural Affairs Lesley Griffiths, who will be taking part in the launch, said: "The launch of the ECHOES project marks the culmination of a huge amount of effort across key partners, and the project will provide us with an excellent opportunity to assess the viability and plan for the improvement and protection of a number of important habitats.
"Conservation plays a vital role in the protection and promotion of Wales' unique ecosystems, and I would like to thank all those involved for their efforts."
Ceredigion MP Ben Lake will also join the event's panel of experts, who include Dr Peter Dennis, Reader in Ecology of Grazed Ecosystems at Aberystwyth University; acclaimed ornithologist Dan Rouse, and Clive Walmsley, Principle Climate Change Advisor at Natural Resources Wales.
Wading birds and geese
The project will apply innovative scientific approaches to modelling the behaviour and distribution of Greenland White-fronted geese and Eurasian Curlew along the Irish Sea coastlines in Ireland and Wales.
Professor Peter Dennis, who leads the ECHOES team within Aberystwyth University's Institute of Biological, Environmental and Rural Sciences (IBERS) said: ""The collaborating organisations of the ECHOES Operation are tremendously grateful for the opportunity to work with existing conservation partners to investigate the importance of the many estuaries and coastal wetlands fringing the Irish Sea for wading birds and geese during winter.
"Our research will tackle questions over sea level rise and tidal inundation of key habitats, the availability of nutritious plants and soil invertebrates, and impacts on the condition of the birds before return flights to summer breeding grounds. This is a pressing nature conservation concern but importantly, directly effects communities whose livelihoods and quality of life depends on the same land throughout the year."
Online tools
The project will also develop online tools and services to help site managers understand how to best mitigate for the potential impacts of climate change on their sites.
Dave Dallaghan, from Ireland-based ECHOES partner Compass Informatics, said: "Compass Informatics are delighted to be part of the ECHOES project which is helping to address one of the major issues of our time - habitat impacts as a result of climate change and their effects on local communities and animal species.
"By developing a set of easy-to-use IT and digital mapping tools and resources, we aim to assist land owners and managers to understand how their environment could be affected, to manage their various land management actions, and to plan and adapt to changes that may have significant impacts."
An important aspect of the ECHOES project will be engaging with local stakeholders in both Ireland and Wales, those tasked with managing or monitoring these coastal habitats and associated bird populations, as well as those stakeholders who live within and/or enjoy the coastal environment.
Dr Crona Hodges, ECHOES Operation Manager, said: "It feels great to finally be able to officially launch ECHOES and get the word out there about our plans and aspirations for this exciting project. We very much look forward to working with communities and other stakeholders along the Irish Sea coast to raise the awareness of climate change impacts on our natural environment and the associated mitigation and adaptation possibilities.
"It will be fascinating to learn more about the behaviour or the Curlew and Greenland White-fronted Geese and the ways in which we can optimally manage important coastal habitat and protect these, important but yet, declining bird populations. I'm really looking forward to the journey ahead!"
To secure your place at the launch webinar, register at eu/events