EXHIBITION: A Radical Tradition – Eine Radikale Tradition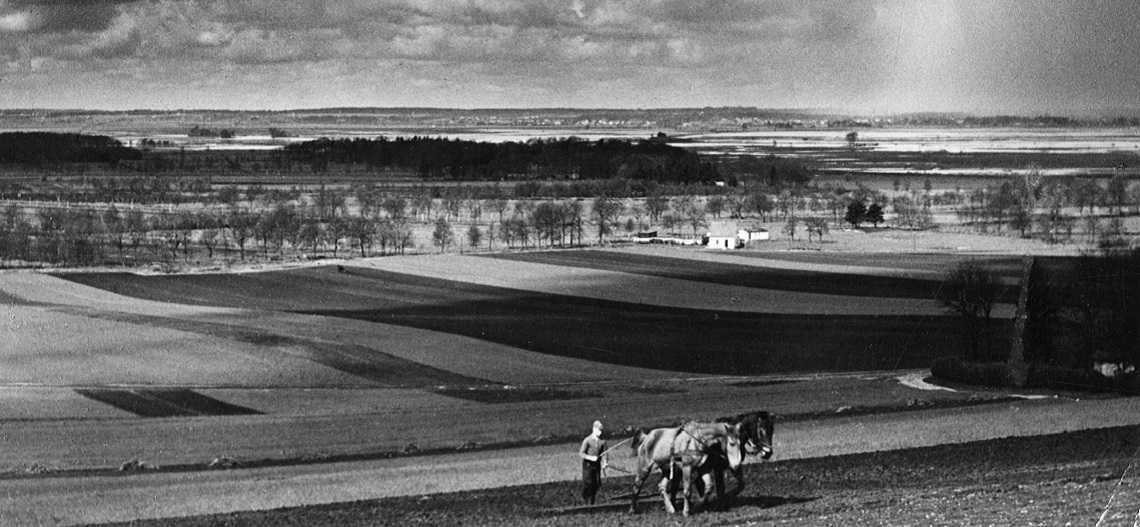 Hans Saebens, Blick zur Hamme-Niederung vom Weyerberg Worpswede, c.1935−40
A new exhibition of 1930s and 1940s photography from Nazi Germany has gone on display at Aberystwyth University's School of Art Gallery.
This exhibition explores the work of three relatively unknown twentieth century German photographers - Hans Saebens (1895-1969), Hans Retzlaff (1902-1965) and Erich Retzlaff (1899-1993).
Their work during the 1930s and 1940s was produced as part of a widely circulated visual framing of German peasants and their 'Heimat' or homeland.
Photography was a central tool in forming a sense of a national identity during the Third Reich and, in order to continue working, photographers needed to be aware of, and in line with, the expectations of Hitler's new state.
The exhibition has been curated by Dr Christopher Webster van Tonder, Senior Lecturer in Fine Art and Curator of Photography at Aberystwyth University's School of Art. He explains: "Since its invention in 1839, the power of photography to form and direct public opinion and influence the interpretation of information and ideas has been well documented. Yet, despite this, as an image-saturated society we are sometimes ill-informed about and lack an understanding of the impact that a constant exposure to the image can have. In an increasingly polarised era of 'fake news' understanding this impact and learning to read the image in context (however ordinary it might appear to be) is more important than ever before.
"These highly skilled photographers focused on the face, the body and the landscape and their approach reflected international trends in 'art' photography. With straight, sharp, often close-cropped images, they used state-of-the-art early 20th century photographic technologies such as the new 35mm Leica camera. Yet, because of the relationship of these photographers to National Socialism and its propaganda this photography has been, not surprisingly, neglected in the broader history of the subject.
"These are not 'neutral' photographs they are romanticised representations cloaked in the guise of a documentary approach. They are intrinsically political artefacts inextricably bound to Hitler's Third Reich."
A Radical Tradition – Eine Radikale Tradition is on view at the School of Art Gallery, Buarth Mawr, Aberystwyth from 2 March 2020 – 1 May 2020. 
The Gallery is open Monday to Friday, 10am to 5pm (closed 10-14 April). All are welcome and admission is free.