Exhibition - John Duffin: Prints and Paintings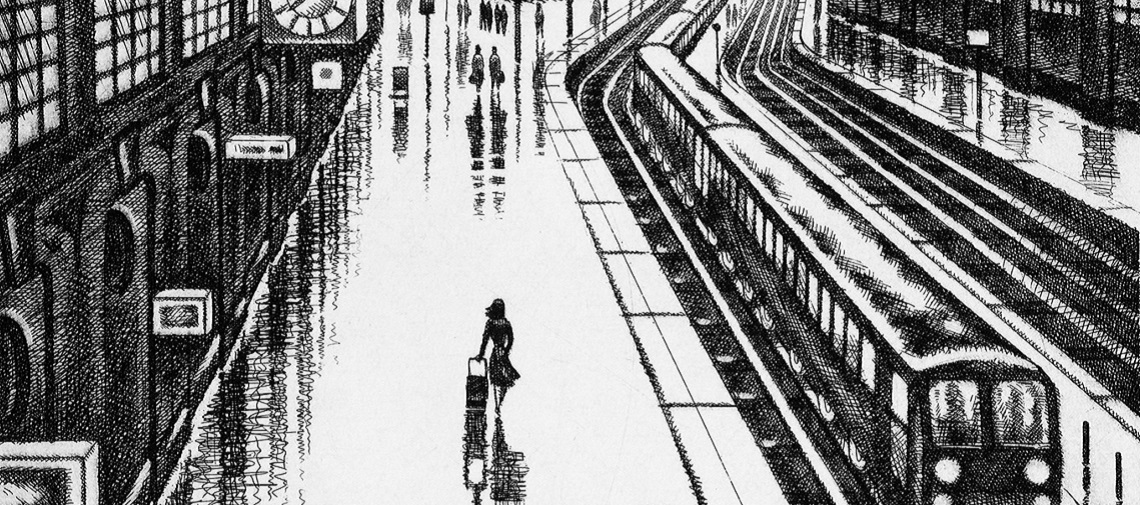 Coastal Trains – Victoria Station by John Duffin, etching 38 x 25 cm (15 x 10 inch)
An exhibition of works by award-winning contemporary painter and printmaker, John Duffin, will be on display at Aberystwyth University's School of Art Gallery from 9 December 2019 to 7 February 2020.
Duffin's work is focused on the depiction of modern urban environments at different times of day, taking inspiration from his inner-city surroundings to create dynamic, cinematic images of contemporary life.
Influenced by film noir and graphic novels his work contains unusual overhead angles, cinematic crops and an implied narrative that the viewer can interpret as they wish.
The prints in this exhibition are etchings on copper, a process that lends itself to the dramatically lit scenarios of Duffin's prints; the lengthy process involves drawing through a hard ground with a sharp needle to expose the copper plate, allowing acid to bite into the metal to create the drawn lines after the plate is inked up and printed. In contrast to Duffin's vividly colourful paintings, the prints are in black ink on bright white paper resulting in dynamic contrasts between shadows and highlights.
Born in Cumbria in 1965, Duffin trained as a Draughtsman and Naval Architect at Barrow-in-Furness, before studying Fine Art at Goldsmiths' College in London, and earning an MA in Printmaking at Central St Martins.
He is a member of The Royal Society of Painter Printmakers (RE) and has exhibited his prints at the Royal Academy Summer Exhibition consistently for the last 20 years, along with numerous solo and group exhibitions.
He has won many awards for his paintings and prints, notably the Blackfriars Bridge Network Southeast Commission in 2009 (where his painting of Blackfriars Bridge was reproduced and displayed on the bridge for one year) and 'The Most Outstanding Print Award' from Sir Peter Blake RA.
His work is in many public and private collections and has great appeal to a wide audience.
John Duffin: Prints and Paintings is on view at the School of Art Gallery, Buarth Mawr, Aberystwyth from 9 December 2019 – 7 February 2020.  The Gallery is open Monday to Friday, 10am to 5pm (closed 23 December to 6 January).  All are welcome and admission is free.