Philomusica to perform centenary tribute to Sir Henry Walford Davies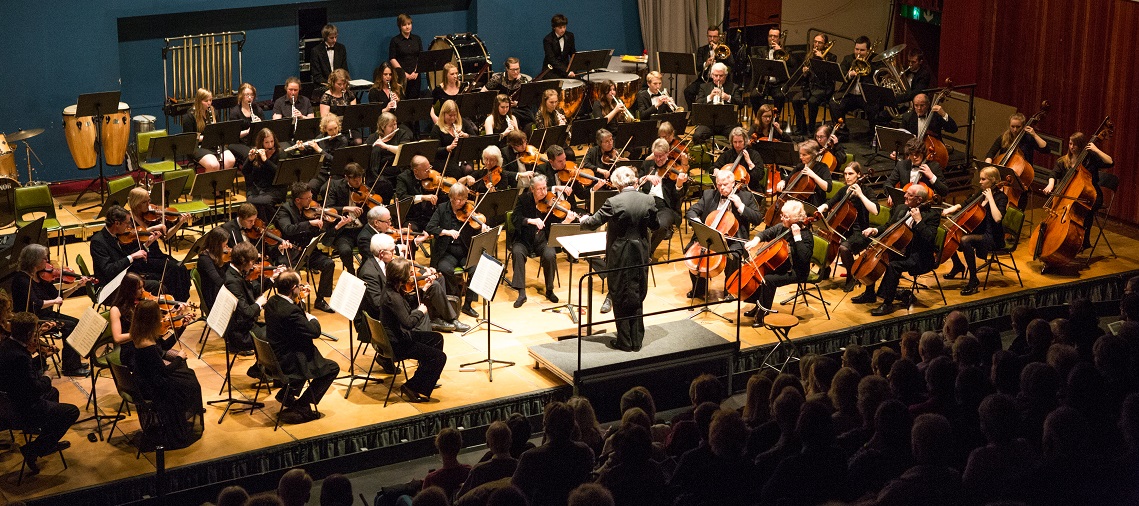 Philomusica
On Saturday 7 December Aberystwyth's symphony orchestra, Philomusica, will grace the stage in the Great Hall at Aberystwyth Arts Centre to mark a significant centenary for music, both in Aberystwyth and in Wales.
One hundred years ago, Sir Henry Walford Davies KCVO OBE (1869–1941) became the first Gregynog Professor of Music at Aberystwyth and first Director of the National Council of Music for Wales.
Philomusica will mark the anniversary with a performance of Davies's 1899 overture, Welshman in London.  The orchestra will be conducted by Aberystwyth University's Director of Music, Dr David Russell Hulme, who has prepared a new edition of the score from the composer's manuscript.
Born into a musical family in Oswestry in 1869, Henry Walford Davies passed through the Royal College of Music, studying composition with Hubert Parry and Charles Stanford, to become a prominent composer and church musician
He held the organist's post at London's Temple Church from 1898-1917. During WW1 he was commissioned into the RAF as its first Director of Music, work for which he was awarded the OBE in 1919.
That same year, Davies - who was in his own words 'one twelfth a Welshman' - accepted the professorship of music at the University College, Aberystwyth, together with the post of the first Director of the National Council of Music for Wales. In these positions, according to his biographer Henry Ley, Davies "laboured unceasingly for the musical enlightenment of the principality."
David Russell Hulme explains: "Davies was a strong choice, not simply because of his musical credentials. He had a gift for cultivating good connections and was a hugely persuasive communicator, who went on to pioneer music broadcasts to schools and for, in his own words, 'the ordinary listener.' His personal circle included Prime Minister Lloyd George and civil service mandarin Thomas Jones ('TJ'). Astonishing as it seems now, all three met at 10 Downing Street to discuss the way forward for music in Wales!
"Crucial though, was Walford's friendship with the Davies sisters of Gregynog, granddaughters of Victorian engineering entrepreneur David Davies of Llandinam. Hugely wealthy and deeply committed to supporting the arts within Wales, they endowed the Gregynog chair and backed Walford to the hilt.
"During Henry Walford Davies's years at Aberystwyth, resident chamber ensembles – the first employed by any university – took concerts to the rural communities across Wales, instrumental teaching was developed in schools, a Welsh Symphony Orchestra was formed and major festivals flourished in Aberystwyth, Newtown, Harlech, Gregynog and elsewhere.
"Several top British musicians were involved – Elgar, Vaughan Williams, Holst, and Boult. Bartok travelled from Budapest to give his first public recital in Britain at Aberystwyth's Parish Hall (now Theatr y Castell) and Rachmaninoff saw the sunset from the Belle Vue Royal Hotel."
Henry Walford Davies received a knighthood in Lloyd George's retirement honours in 1922, and his establishment status was further affirmed by his appointment as Master of the King's Music following Elgar's death in 1934.
Relinquishing the ties of the Aberystwyth post in 1926, he continued to head the National Council until his death in 1941.
Philomusica's performance of Henry Walford Davies's 1899 overture, Welshman in London takes place at 8pm on Saturday 7 December in the Great Hall at Aberystwyth Arts Centre. The concert will also include Stravinsky's Firebird Suite, the Tchaikovsky violin concerto with soloist Tom Mathias, Moncayo's Huapango and Finzi's The Fall of the Leaf.
Tickets are available from Box Office, with full price tickets at £12 and students only £3.50 - 01970 623232 / www.aberystwythartscentre.co.uk.
Dr Rhian Davies will give a pre-concert talk on Henry Walford Davies and his work in the Arts Centre Cinema at 6.30pm.