Expert in medieval French literature to deliver Professor David Trotter Memorial Lecture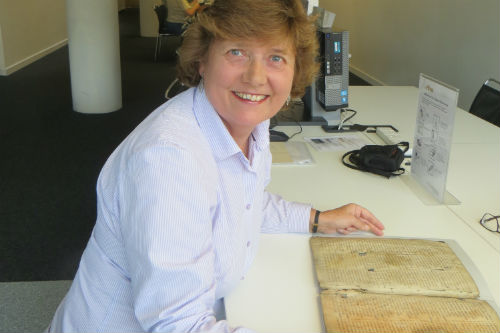 Professor Marianne Ailes
Professor Marianne Ailes from the University of Bristol will deliver the fourth Professor David Trotter Annual Memorial Lecture on Friday 1 November 2019 at Aberystwyth University.
Hosted by the Department of Modern Languages, this year's memorial lecture is entitled 'What did the English give the French? Anglo-Norman on the Continent'.
Professor Ailes is an expert in Medieval French literature, including French literature of medieval England.
She has a particular interest in the chansons de geste and early vernacular chronicles, focusing on crusade narratives, and is actively involved in editing and translating as well as interpretative studies.
Professor David Trotter was a leading international authority on French language and lexicography, a former president of the Société de Linguistique Romane and a corresponding member of the Paris-based Académie des Inscriptions et Belles-Lettres.
A graduate of Queen's College Oxford, he joined Aberystwyth University in 1993 and was Professor of French and Head of the Department of Modern Languages for over two decades.
Dr Guy Baron, Head of the Department of Modern Languages at Aberystwyth University, said: "Professor Trotter was an extraordinary academic whose legacy continues today in the form of the Anglo-Norman Dictionary Project which has received funding from the Arts and Humanities Research Council (AHRC). He led the Modern Languages Department for many years and was a wise and well respected academic who had a keen sense of humour that was never lost within the serious confines of academic life."
The 2019 Professor David Trotter Annual Memorial Lecture will take place at 6pm on Friday 1 November in lecture theatre C22, Hugh Owen Building, Penglais Campus. It will be followed by a complimentary drinks reception at 7pm in Theatr y Werin Bar at Aberystwyth Arts Centre.
Admission is free and a warm welcome is extended to everyone.