Peter Hancock Scholarship awards presented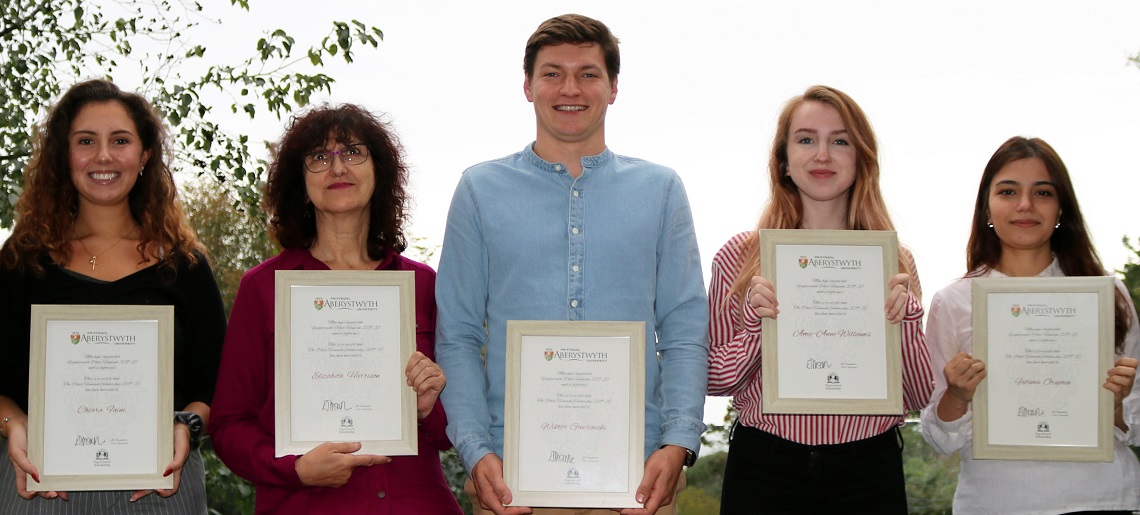 The 2019 Peter Hancock scholars (left to right) are Chiara Faini, Elizabeth Harrison, Wiktor Gawronski, Amy-Anne Williams, and Fatima Orujova.
The latest recipients of a scholarship that bears the name of a former student who was supported financially by Aberystwyth University over half a century ago, have been announced.
In 1961 Peter Hancock was awarded a scholarship that enabled him to successfully complete his Geology degree and set him on a course for a successful global academic and business career.
In recognition of the help he received as a student, Peter and his partner and fellow Aber graduate Pat Pollard gave more than £500,000 to the University in 2015.
With the money, the University established the Peter Hancock Scholarship which is awarded to final year students who show great ambition and potential, and who would benefit from financial support, as Peter himself did over fifty years ago.
On Monday 7 October, Vice-Chancellor Professor Elizabeth Treasure hosted a reception where she presented the awards to the 2019 Peter Hancock scholars; Chiara Faini, Elizabeth Harrison, Wiktor Gawronski, Amy-Anne Williams, and Fatima Orujova.
Professor Treasure said: "On behalf of Peter and Pat, it is a pleasure to be able to award this year's Peter Hancock Scholars. I wish them every success as they begin their final year here with us, and trust the support they have received thanks to Peter and Pat's generosity provides an important step in to a world of opportunities, as was the case for Peter all those years ago."
Aberystwyth University has a long history of philanthropic giving, and in making this generous gift, Peter and Pat have been welcomed into the Vice-Chancellor's Giving Circle, which has been established to recognise and thank the ongoing support of our donors around the world.
Professor Treasure added: "We value greatly the excellent support of our alumni, many of whom do so financially as Peter and Pat have done, but also practically as so many others do on a daily basis. Their contributions enrich the lives of our current students in so many ways and contribute to the excellent student experience for which this University has become renowned."
Speaking at the time of establishing the fund, Peter said: "The key element in making this gift is to give something back to student life and the university that over 50 years ago gave me so much academically, socially and in developing my leadership and business skills. At the same time, I hope it will make a difference through providing scholarships for in-need, promising students to enable them to commence rewarding careers that contribute to society and so, in turn, help others."
Worth up to £4200 per student, the Peter Hancock Scholarship also enables recipients to benefit from an experienced and supportive mentor assigned from amongst the family of Aberystwyth alumni.
The scholarship is awarded to "deserving, meritorious, in-need year 2 honours students or equivalent in any discipline and of any nationality and who show potential to benefit society through the successful completion of their Honours Degrees or equivalent."
To date 21 students have been awarded the Peter Hancock Scholarship. Further details about how to apply are available online here.