Aberystwyth University at the National Eisteddfod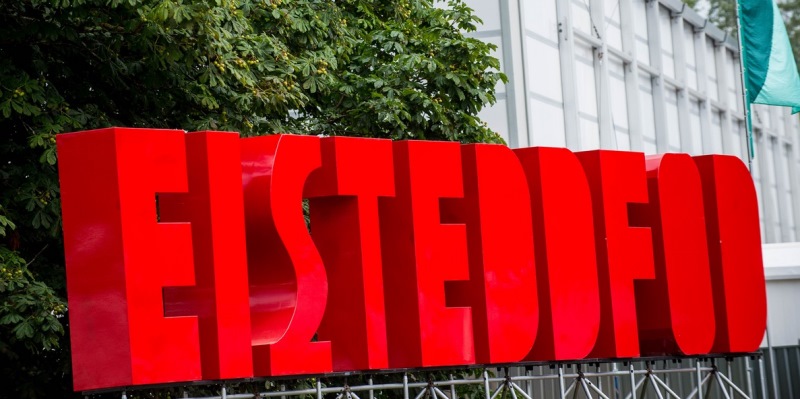 Wales' relationship with Europe in the days of Llywelyn the Great, Mars, memories of Pantycelyn and language revitalisation will be some of the themes discussed as part of Aberystwyth University's programme of events at the National Eisteddfod at Llanrwst during the coming week.
Aberystwyth University will have something for everyone at its stand during the week-long festival, along with an opportunity to watch some of the weeks highlights on a big screen, and there's even a piano for those competitiors who might need a last minute rehearsal.
The University is also represented at the Science Pavilion and on the stages of Pabell y Cymreithasau (Societies) and Y Babell Lên (Literature), and for the third year running Aberystwyth is the main sponsor of Maes B, the Eisteddfod's "official after-dark little brother".
Dr Rhodri Llwyd Morgan, Director of Welsh Language and External Engagement said: "The Eisteddfod is undoubtedly a highlight in Aberystwyth University's calendar and a valuable opportunity to share the latest innovative research undertaken here and to inspire a new generation of young people to broaden their horizons and make the most of the award winning academic provision we offer at the College by the Sea. It's also an opportunity to renew our wonderful links with our alumni and we look forward to welcoming everyone to the popular reunion on Wednesday afternoon to reminisce, but also to look forward as we prepare to reopen Pantycelyn in September 2020. Call in to see us and join in the activities and the discussions, we look forward to meeting new and familiar visitors in Llanrwst."
Aberystwyth University Stand M05:
10:00 Monday 5 August, an opportunity to learn more about the pioneering ExoMars project with Dr Helen Miles and Barnes the ExoMars Rover from the Department of Computer Science and at 11:30, see how bubbles can solve mathematical problems.
On Tuesday 6 August between 11:00 and 14:00 join the Department of Theatre Film and Television studies to record your memories of Pantycelyn. Then at 14:30 there's another opportunity to meet the ExoMars rover in the company of Dr Helen Miles.
Crime and the Media is the subject of the session on Wednesday 7 August at 11:00 with a discussion on how crimes are overly-reported on television, in print and on-line. And at 14:00 in the afternoon, there will be a very warm welcome to the ever popular alumni reunion. This year's guest speaker will be alumna Non Gwilym, Head of Communications at the National Assembly for Wales.
Aber-Virtual Education and the use of virtual technology in teaching will be the focus for the 10:00 session onThursday 8 August. This will be followed at 12:00 by a discussion on Language Revistalisation and understanding the connection between language and economic development. Chaired by recently appointed Head of Law and Criminology at Aberystwyth University Emyr Lewis, panel members will include Dr Huw Lewis from the Department of International Politics, Siân Gwenllian, Assembly Member for Arfon and Edward Jones from Bangor University.
OnFriday 9 August at 11:00 there will be an opportunity to take on a translation challenge and at 12:00 the Revitalise network will discuss the role of government and civil society movements in the field of language policy and planning. Chaired by Rhian Huw Wiliams, panel members include Dr Elin Royles from the Department of International Politics and Elin H G Jones, Mercator/University of Wales Trinity St David.
Pabell y Cymdeithasau 1 (Societies 1):
Friday 9 August, 10:00: As part of the Department of International Politics centenary celebrations, Dr Huw Williams from Cardiff University will evaluate David Davies' ideas, the founder of the world's first international relations department.
Pabell y Cymdeithasau 2 (Societies 2):
Tuesday 6 August at 12:30: 'Llifogydd: rhwystr i feirdd ers y bymthegfed ganrif (o leiaf!)'. A fun-filled session on how flooding has been an obstacle to poets since at least the 15th century in the company of Eurig Salisbury and Dr Hywel Griffiths.
Wednesday 7 August at 10:00 PhD candidate Rhodri Evans will discuss the protests surrounding the 1969 investiture of the Prince of Wales in his session 'Dinoethni'r Arwisgo: Her a Phrotest wrth-Arwisgo yng Nghymru, 1969'. This will be followed at 11:30 by a panel of former International Politics students at Aberystwyth University who discuss devolution in Wales. Chaired by BBC Cymru's Sara Gibson, panel members will include Haf Elgar (Friends of the Earth Cymru), Dafydd Trystan (Coleg Cymraeg Cenedlaethol), Owain Clarke (BBC Cymru), and Dr Elin Royles (Aberystwyth University).
Thursday 8 August at 12:30, Dr Robin Chapman from the Department of Welsh and Celtic Studies will look at Welsh nationalism before 1925 in his lecture 'Oni fu Pensaer Eisoes yn ein Mysg'.
Y Babell Lên (Literature Tent):
Tuesday 6 August at 16:15, Dr Bleddyn Huws from the Department of Welsh and Celtic Studies will discuss 'Cyfrinach y Carneddi', which is the story behind Geoff Charles' picture of Carneddog and Catrin bidding farewell to Wales.

Saturday 10 August at 14:25, Dr Rhun Emlyn from the Department of History and Welsh History will lecture on 'Llywelyn Fawr: Cymru, Ewrop a Llanrwst', where he will consider the links that existed and developed between Llywelyn the Great and Wales, and the area of this year's Eisteddfod's specifically, and Europe.
Maes B
Aberystwyth University is sponsoring Maes B. Tipi Aber will be open between 8:30 – 16:00 from Wednesday 7 August until Saturday 10 August offering a space to unwind,  charge mobile phones, a morning cuppa and much more.
For the latest from the University's stand and the Eisteddfod Maes, follow Aberystwyth University on Twitter @AberUni and #LoveAber or Instagram aberystwyth.university.