Former First Minister of Wales receives Honorary Fellowship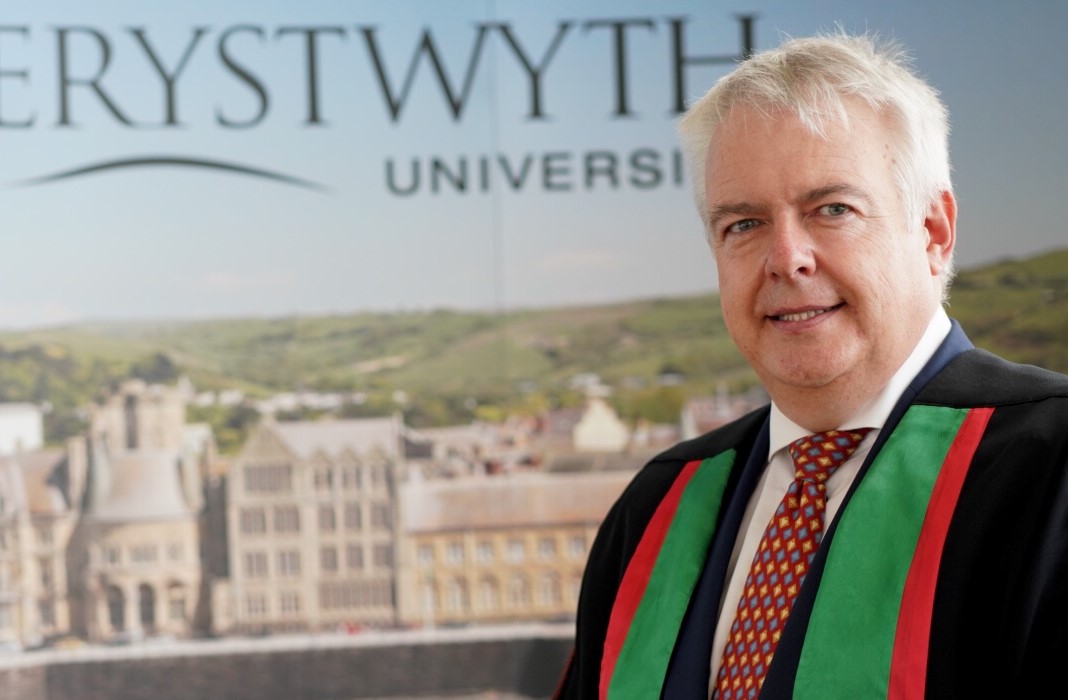 The Right Honourable Carwyn Jones AM, former First Minister of Wales and Leader of Welsh Labour, who has been awarded an Honorary Fellowship of Aberystwyth University.
The Right Honourable Carwyn Jones AM, Former First Minister of Wales and Leader of the Welsh Labour Party 2009-18 has been awarded an Honorary Fellowship of Aberystwyth University.
The son of Welsh speaking school teachers, the Rt Hon Carwyn Jones AM was born in Swansea and brought up in Bridgend. He graduated in law from Aberystwyth in 1988.
After training as a barrister in London, he practised in Swansea for ten years before being elected to the first National Assembly for Wales in May 1999.
Over the following two decades he held a number of positions in Welsh Government, including serving as Secretary for Agriculture and Rural Development (2000-02) and Minister for the Environment, Planning and Countryside (2003-07).
Following a brief period as Minister for Education, Culture and the Welsh Language, he became Counsel General for Wales in 2007 and served as First Minister of Wales and Leader of Welsh Labour from 2009 until 2018.
The Right Honourable Carwyn Jones AM was presented as Honorary Fellow by Professor John Williams, Emeritus Professor in Aberystwyth University's Department of Law and Criminology on Friday 19 July 2019.
The full conferral presentation is available below, in the language in which it was delivered.
Presentation of Right Honourable Carwyn Jones AM by Professor John Williams:
Ganghellor, Is-Ganghellor, graddedigion a chyfeillion. Pleser o'r mwyaf yw cyflwyno Carwyn Jones yn gymrawd Prifysgol Aberystwyth.
Chancellor, Vice-Chancellor, graduates and supporters. It is an honour and a privilege to present Carwyn Jones as a Fellow of Aberystwyth University.
Carwyn Jones graduated with an LL.B in 1988 from what was then the University College of Wales, Aberystwyth. He came to Aberystwyth from Brynteg Comprehensive School, Bridgend. Carwyn was born in Swansea but brought up in Bridgend. He is proud of the fact that since 1999 he has represented Bridgend as the Assembly Member.
As a student, Carwyn was a keen rugby player. He also developed his passion for politics and joined the Labour Party during the 1984-5 Miners' Strike. He enjoyed university life and, as is the nature of Aberystwyth, met many people who have remained lifelong friends. His approach to university life was to achieve a good balance between his academic studies and the many other opportunities that present themselves.
After graduating, Carwyn qualified as a barrister. He joined Gray's Inn originally as a student member. In recognition of his achievements, in 2016 he was elected as a Master of the Bench of Gray's Inn. Following a career at the Bar in Swansea, and as a tutor on Cardiff University's Bar Vocational Course, Carwyn stood as a Labour Party candidate in the first elections to the newly created National Assembly for Wales. He had already established himself as a well-known political figure in Bridgend after serving as a Labour Councillor for five years.
As an Assembly Member, he has held many ministerial appointments. These include the minister for Agriculture and Rural Development, and for Education, Culture and the Welsh Language. In 2007, he was appointed Counsel General for Wales. His interest in law increasingly focussed on constitutional law and the devolution settlement for Wales.
Following the resignation of First Minister Rhodri Morgan in 2009, Carwyn won the election to succeed him as Welsh Labour Leader and as the First Minister. Appointment to the Privy Council followed in 2010.
As First Minister, he presided over one of the most significant events in the recent history of Welsh devolution. This was the referendum on whether the Assembly should have primary law making powers. The outcome of the referendum was 63.49% in favour of such powers. Upon receiving the result on the 4th March 2011 the First Minister said 'Today an old nation came of age'.
The acquisition of primary law-making powers opened up opportunities for Wales enabling the Welsh Government and the Assembly to address the complex issues facing the nation. During his time as First Minister his Government introduced a radical programme of reform, including the Human Transplantation (Wales) Act 2013, the Social Services and Well-being (Wales) Act 2014, the Violence Against Women, Domestic Abuse and Sexual Violence (Wales) Act 2015 and the Well-being and Future Generations (Wales) Act 2015. These were innovative and showed that Wales is a lively and forward thinking nation.
Life as the First Minister of Wales is exhausting. The demands are relentless. Sometimes achievements are hard to see amongst the day-to-day life of government. However, Carwyn at all times was devoted to the role and enthusiastically promoted Wales' in the United Kingdom and beyond.
Throughout his professional life, Carwyn has enjoyed the support of his family and in particular his wife Lisa, also a graduate of the Law Department. His achievements are immense and it entirely appropriate that Aberystwyth is recognising this distinguished former student.
Ganghellor, mae'n bleser gen i gyflwyno Carwyn Jones i chi yn Gymrawd.
Chancellor, it is my absolute pleasure to present Carwyn Jones to you as a Fellow of Aberystwyth University.
Aberystwyth University Honours 2019
Nine individuals are being honoured by Aberystwyth University during the 2019 graduation ceremonies, which take place at the University's Arts Centre from Tuesday 16 until Friday 19 July.
Honorary Fellowships are presented to individuals who have, or have had, a connection with Aberystwyth or Wales, and who have made an outstanding contribution to their chosen field.
The 2019 Aberystwyth University Honorary Fellows are (in order of presentation):
Alan Phillips, retired peripatetic music teacher who worked for Ceredigion Music Service for 35 years
Professor Frank N. Hogg OBE, the first Principal of the College of Librarianship Wales
Ruth Bidgood, Welsh poet and local historian
Professor R Geoff Richards, Director of one of the world's leading orthopaedic research institutes, the AO Research Institute in Davos (Switzerland)
Emyr Jenkins, first Director of the National Eisteddfod and former Chief Executive of the Arts Council of Wales
Professor Virginia Gamba, leading expert in the field of disarmament research and policy formulation
Ian Hopwood, who has worked in the development field for over 40 years in UNICEF HQ and in field assignments in Africa, Asia, and the Arab Gulf States
The Rt Hon Carwyn Jones AM, former First Minister of Wales and Leader of the Welsh Labour Party 2009-18
Judith Diment, a leading global figure in the campaign to eradicate polio