Aberystwyth top for student satisfaction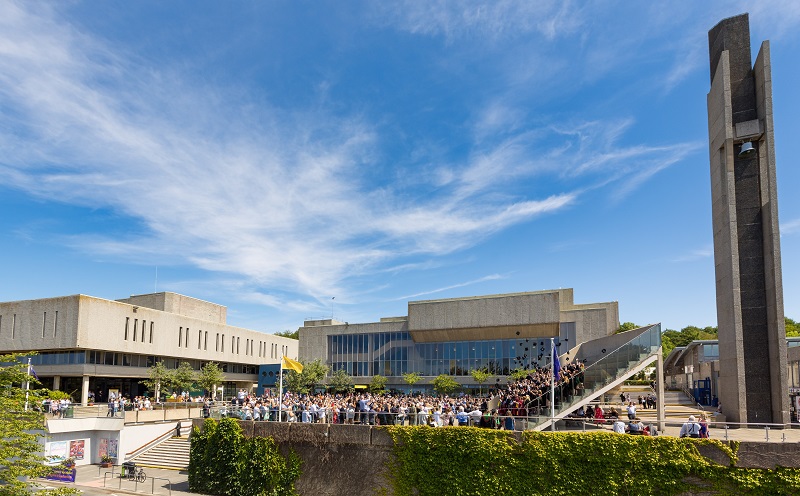 Students have once more rated Aberystwyth University as one of the best in the UK for overall student satisfaction.
Aberystwyth is the top university in England and Wales, and second in the UK for overall student satisfaction according to The National Student Survey (NSS) which is published today Wednesday 3 July 2019.
With overall student satisfaction at 91%, Aberystwyth University has outperformed the UK figure of 84% by 7 percentage points.
Aberystwyth University has also retained its place as the top university in Wales for student satisfaction for the fourth year running.
The annual survey asks every final-year undergraduate to score their university across a wide range of questions including quality of teaching, learning opportunities, assessment and feedback, academic support, organisation and management, learning resources, learning community, the student voice and overall satisfaction.
Professor Elizabeth Treasure, Vice-Chancellor at Aberystwyth University, said: "As a University, we want our students to have an excellent and rewarding experience of higher education that prepares them for future success. We are delighted therefore with today's NSS results, which show once more how highly students rate the quality of the teaching, feedback and facilities at Aberystwyth. Their ringing endorsement of this University reflects the dedication of our staff and their commitment to ensuring our students get the best possible education."
Dhan Ramnatsing, President of Aberystwyth Students' Union said: "Congratulations to Aberystwyth University on another outstanding NSS result. It's great to see Aberystwyth continuing to achieve such high student satisfaction year on year and maintaining their top position in Wales. The Students' Union works hard to make sure that student satisfaction remains high at Aberystwyth and to ensure that Aber students love student life".
The National Student Survey is conducted by IPSOS Mori on behalf of the Office UK's higher education funding councils and gathers the opinions of nearly half a million final-year students in universities, colleges and alternative providers.
Conducted by IPSOS Mori, the NSS is coordinated by the Office for Students on behalf of its funders including the Higher Education Funding Council for Wales, the Scottish Funding Council and the Department for the Economy in Ireland.
As well as a top achiever in the NSS, Aberystwyth University also holds a Gold award in the Teaching Excellence Framework (TEF) and has been named University of the Year for Teaching Quality in The Times / Sunday Times Good University Guide for two consecutive years in 2018 and 2019.