Rare-breed sheep research at Pwllpeiran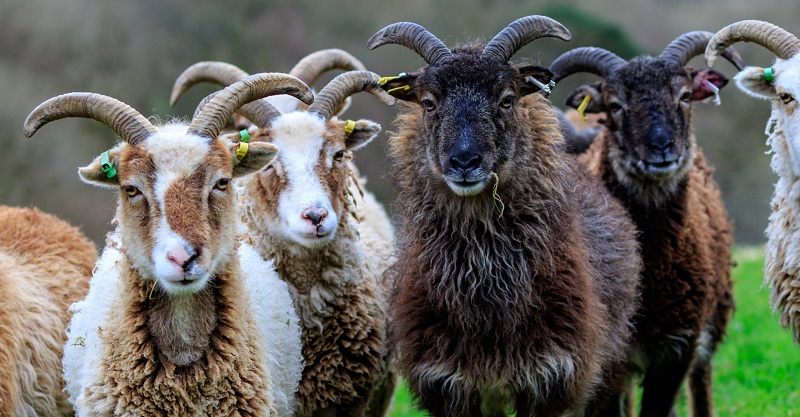 Some of the flock of Soay sheep based at IBERS' Pwllpeiran Upland Research Platform at Aberystwyth University.
Researchers from Aberystwyth University have recently visited the isles of St Kilda in the Outer Hebrides as part of their new study on the feeding habits of an ancient rare breed of wild sheep.
Dr Mariecia Fraser and Hannah Vallin from the Institute of Biological, Environmental and Rural Sciences (IBERS) are looking at the diet of Soay sheep to find out why some survive in the wild and others do not.
By gaining a better understanding of what the animals eat, they hope to learn lessons that could benefit the feeding of domesticated flocks.
Their work is part of a new study based around a long-term project on the Soay Sheep that has been running since 1985 and is currently managed by researchers at the University of Edinburgh.
Wild Soay sheep live on the St Kilda islands, where they have been left to roam unmanaged since the last human inhabitants left in the 1930s. The Aberystwyth team visited the island in May 2019.
Designated a National Nature Reserve and a World Heritage Site, the islands lie 40 miles west of the Outer Hebrides and are the remotest part of the British Isles.
Dr Mariecia Fraser, a Reader in Upland Agroecosystem at Aberystwyth University's Pwllpeiran Uplands Research Platform, said: "The Soay sheep of the St Kilda archipelago are part of a unique ecosystem. They have no predators and as they are unmanaged, they do not get any supplementary feeding or other interventions. These animals therefore provide researchers with a unique opportunity to learn from natural systems and apply those lessons more widely. As part of our research at Pwllpeiran, we have created a small research flock of 15 Soay sheep from mainland flocks that can trace their lineage back to the islands.
"Using faecal samples collected on St Kilda, we are studying the DNA of ingested plants and developing a new method of pinpointing exactly what the sheep are eating. Working with scientists at collaborating organisations, we will be using these findings to gain a greater understanding of relationships between diet, gut microbiology, parasite burdens and survival that could benefit upland farmers in Wales and elsewhere."
The five-year research project, which is led by the University of Edinburgh, is funded by the Natural Environment Research Council (NERC) and supported by the National Trust for Scotland.  
St Kilda Field Trip
Hannah Vallin is the the research assistant appointed to the new project at Pwllpeiran. Hannah has previous experience of life on the island after spending three weeks on St Kilda during August 2018 helping to round up as many Soay sheep as possible so that their weight and condition could be monitored by the project team.
"By catching, tagging and recording as many sheep as possible the research team have been following individuals from lambing, through the breeding season and building up a database of the sheep population over the last 33 years," said Hannah.
"Measurements such as limb length, horn type, coat colour, dental checks and weight were all recorded, along with a faecal and blood sample for every sheep. In addition to this, there is a census count for the whole island population carried out every year."
You can read more about Hannah's 2018 trip on the Pwllpeiran blog.