Aberystwyth University at the Urdd Eisteddfod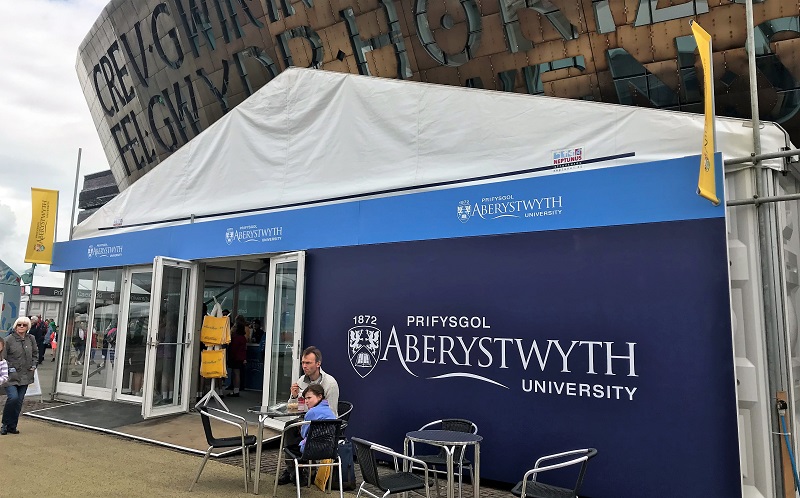 The Aberystwyth University stand at this year's Urdd National Eisteddfod is next to the Wales Millennium Centre, in Cardiff Bay.
As thousands of young people from across Wales compete at the 2019 Cardiff and the Vale Urdd Eisteddfod this week, Aberystwyth University is there to support Wales' largest youth festival.
For the fourth year running, the University is the sponsor of the Sports Area at the Eisteddfod, which is being held at Cardiff Bay from 27 May to 1 June 2019.
The Sports Area is part of a long term initiative between the University and the Urdd to promote sports provision and develop new talent across Wales.
Eisteddfod goers are also able to follow the latest Eisteddfod news on a large video wall near the Millennium Centre, and on smaller screens in the Millennium Centre, thanks to the University's support.
On the University's stand (RH005), which is opposite the Millennium Centre, competitors have the opportunity to use a piano and rehearsal space for some last minute preparation before competing.
The rehearsal space can be booked in advance by contacting the Marketing Department on 07790 806990.
And of course, there will be an opportunity to relax and watch some of the Eisteddfod's highlights live on the University's stand and take part in a range of activities throughout the week.
Dr Rhodri Llwyd Morgan, Director of Welsh Language and External Engagement at Aberystwyth University said: "The Urdd Eisteddfod is undoubtedly one of the highlights of the calendar and a great opportunity to celebrate our language and culture. We have an exciting programme on the stand and we'll all be keen to share with everyone the unrivalled experience of studying at Aberystwyth University and the latest news on our ambitious plans, including the refurbishment of Pantycelyn. As usual, many of our students and alumni are taking part in different ways during the week and we wish them, and members of Aelwyd Pantycelyn in particular, the very best."
Programme of Activities
Monday 27 May – 10.30 – 14.30
Parasites and how they infect humans
Tuesday 28 May – 10.00 – 16.00
TrioSci Cymru: Rock pool challenge
Wednesday 29 May – 10.30 – 12.30
Mathematics with Bubbles
Thursday 30 May – 10.00 -14.00
Memories of Pantycelyn
Thursday 30 May – 14.00 – 15.00
Award Ceremony: Translating Competition Years 10-13
Friday 31 May – 10.00 – 12.00
Aber-Virtual Education
Friday 31 May 14.00 – 15.00
Come and join us in the Aberystwyth Business School Quiz
The Institute of Biological, Environmental and Rural Sciences (IBERS) will be at the Eisteddfod's science pavillion GwyddonLe from Monday to Wednesday.
For the latest from the University's stand and the Eisteddfod Maes, follow Aberystwyth University on Twitter @AberUni and #LoveAber or Instagram aberystwyth.university.