Winners of Gŵyl Dewi Awards 2019 announced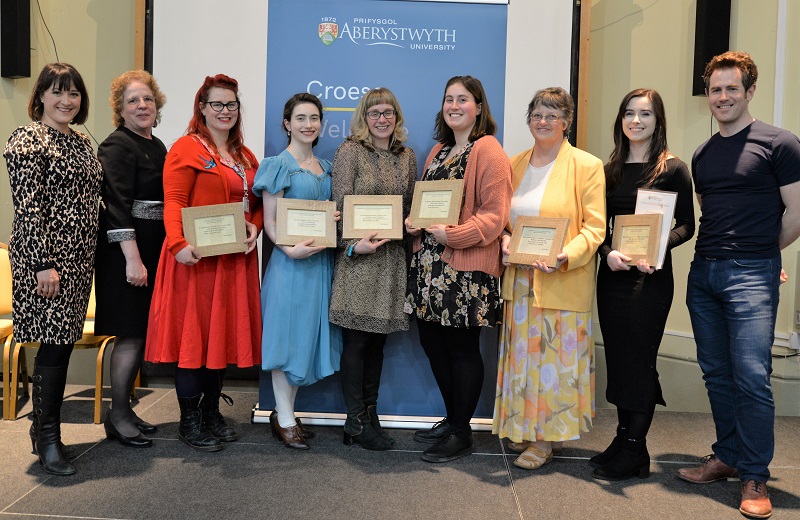 2019 Gŵyl Dewi Awards winners
Students and staff have been honoured by Aberystwyth University for their contribution to the Welsh language at a special ceremony in the Old College on Thursday 14 March 2019.
The 2019 Aberystwyth University Gŵyl Dewi Awards were presented to Janet Hardy, Trish Sadler-McGrath, Demi John, Anne Robbins, Rebecca Snell and Dr Elin Royles after being nominated by staff and students at the University.
The awards were presented by Professor Elizabeth Treasure, Vice-Chancellor of Aberystwyth University.
The winners include learners and first language Welsh speakers from five different categories, with one category seeking joint winners:
Exceptional Learner (staff) – Janet Hardy
Promoting Welsh in the Workplace – Trish Sadler-McGrath


Welsh Medium Study – Demi John


Welsh Language Champion (student) – Anne Robbins
                                                         Rebecca Snell


Special Contribution to the Welsh Language – Dr Elin Royles
Each winner received a personal poem ('englyn') written by award winning poet and novelist Eurig Salisbury, who is also a lecturer in the Department of Welsh and Celtic Studies at Aberystwyth University.
Sara Gibson, a journalist with BBC Cymru Fyw and an alumna of the University's Department of International Politics was the guest speaker.
Dr Rhodri Llwyd Morgan, Director of Welsh Language and External Engagement said: "It's a privilege to be a part of this event which recognizes what students and staff achieve in promoting the Welsh language. We celebrate the efforts to learn the language, those that study through the medium of Welsh and those who encourage and support others. Aberystwyth University has a special role locally and nationally in raising awareness of the language and aiming to create a Million Welsh Speakers. These awards mark these commendable efforts."
The winners
Janet Hardy (Exceptional Learner): Originally from Oxford, Janet has lived in Aberystwyth since 1975 when she came to the University to study Ecology. She has devoted her time since arriving at Aberystwyth to learn Welsh and started as a student with the Pantycelyn students and attending classes by night. The 'Cymraeg Gwaith' plan and the Mentoring plan has inspired Janet to live her life in the Welsh language.
Trish Sadler-McGrath (Promoting Welsh in the Workplace): Trish joined the Students Union in 2016 a non-Welsh speaker. She immediately decided to learn Welsh and make bilingualism a major part of the Union's vision. She encourages her peers to learn Welsh and gives them the time to attend classes within work hours.
Demi John (Welsh Medium Study): Demi is a second year student studying Law and Criminology. Originally from Penderyn, she attended Aberdare Welsh medium school but lives in a non-Welsh speaking household. She chose to study at Aberystwyth University because of the vibrant Welsh community, as well as the opportunities to study through the medium of Welsh.
Anne Robbins(Welsh Language Champion): Anne was brought up in Calgary, Canada and now studies Celtic Studies in Aberystwyth. She uses the Welsh language whilst volunteering in local institutes and in her part-time job at the University's cafés.
Rebecca Snell (Welsh Language Champion): As a result of breaking her leg, Rebecca started to learn Welsh. On a family holiday in Pembrokeshire, she couldn't participate in any activity so her sister bought her a Welsh-English dictionary. As a result she decided to attend Aberystwyth University's Learn Welsh Summer Course and decided to study Welsh at Aberystwyth University, after being accepted to the University of Sheffield to study English Literature. She worked on Aberystwyth University's Intensive Summer Course and represents the Department of Welsh as an ambassador.
Dr Elin Royles (Special Contribution to the Welsh Language): Elin, Senior Lecturer and Director of Welsh at the University's Department of International Politics, is an advocate to the status of the Welsh language in the University. She served as the Chair of Aberystwyth's Branch for the Coleg Cymraeg Cenedlaethol and has gone beyond expectation within the Welsh-medium academic community. She's an active contributor to student recruitment schemes and campaigns and promoting the Welsh-medium provision in the University.