Aberystwyth scientists take research to Westminster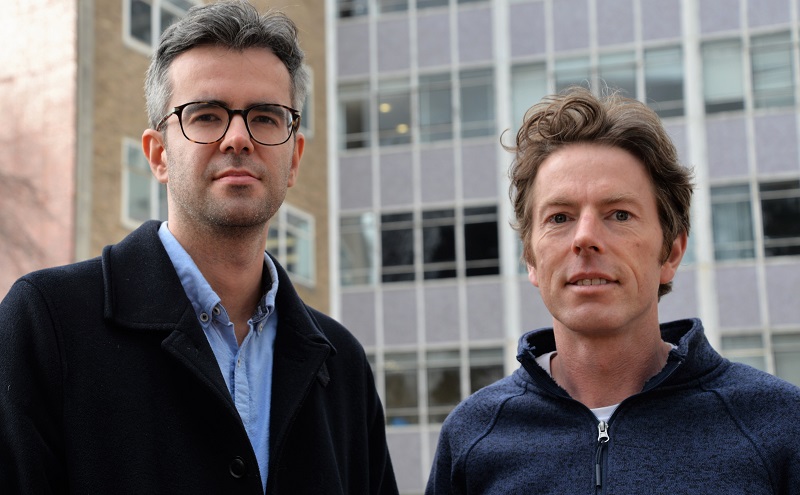 Aberystwyth University physicist Alex Pitchford (right) and mathematician Dan McNulty will presenting their research in Westminster as part of STEM for BRITAIN.
Two Aberystwyth University researchers will present their work at the Houses of Parliament on Wednesday 13 March 2019 as part of Westminster's annual STEM for BRITAIN event.
Physicist Alex Pitchford and mathematician Dan McNulty will discuss their research with politicians and a panel of expert judges at the event as part of a national poster competition featuring dozens of early career researchers from across the UK.
Alex and Dan were shortlisted from hundreds of applicants to appear at the London event.
An Aberystwyth University Physics graduate, Alex is now a Postdoctoral Research Associate at the University's Department of Mathematics and will present his research on quantum computing optimisation.
Alex has recently returned from Japan where he has been attending a developer conference for QuTiP, open source software for simulating the dynamics of open quantum systems. He is lead developer for the project's library.
Alex said: "This is an exciting opportunity for me to explain my scientific ideas to the UK decision makers who invested a lot in quantum technology. It's also a unique opportunity to visit the House of Commons, and meet my MP who has generously offered to give a tour."
A graduate of Imperial College London, Dan is a Sêr Cymru II Research Fellow* in the Department of Mathematics.
He will be presenting work relating to the strange quantum phenomenon of complementarity, and discussing its role in some of the new and exciting quantum technologies revolutionising computing, communication and security.
Dan said: "I'm delighted to present my work at the STEM for BRITAIN event in the House of Commons. This gives me the opportunity to promote my research in a non-academic environment and participate in a project which aims to support early career research scientists from across the UK."
Stephen Metcalfe MP, Chairman of the Parliamentary and Scientific Committee, said: "This annual competition is an important date in the parliamentary calendar because it gives MPs an opportunity to speak to a wide range of the country's best young researchers.
"These early career engineers, mathematicians and scientists are the architects of our future and STEM for BRITAIN is politicians' best opportunity to meet them and understand their work."
Alex's research has been entered into the physics session of the competition, whilst Dan's work will feature in the mathematics session.
At stake are gold, silver and bronze awards, along with £2,000, £1,250 and £750 to the respective winners.
The overall winner will receive the Westminster Wharton Medal.
*Sêr Cymru II is a research fellowship funded by European Regional Development Fund through the Welsh Government.