Students volunteer to make a difference in the Aberystwyth community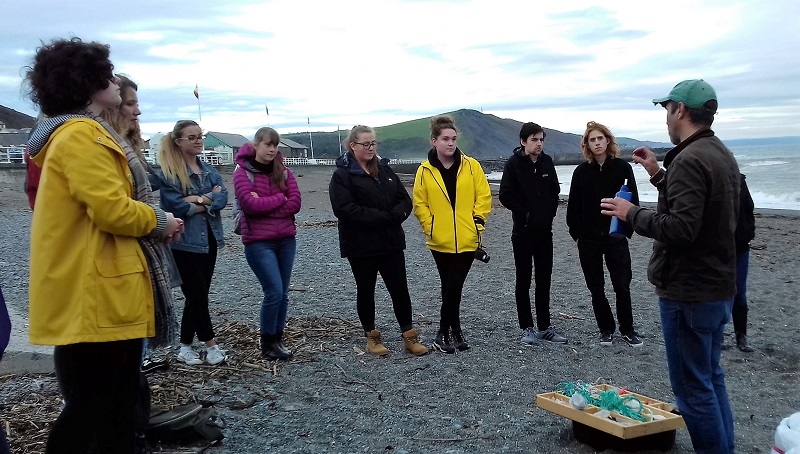 Over 500 students regularly volunteer at Aberystwyth University and collectively contribute more than 1500 hours a week
Beach cleaning, reducing food waste, combating loneliness, and surveying marine wildlife are just a few of the ways in which Aberystwyth University students will contribute to their community as part of a nationwide student volunteering initiative taking place from 11-17 February 2019.
Now in its 18th year, Student Volunteering Week is a seven-day celebration of activities and opportunities.
The aim is to encourage university students to volunteer in their local communities, and to develop new skills while forming key social action partnerships between their university and local community.
To mark the event, Aberystwyth Students' Union (AberSU) has organised a week-long programme of events involving local students.
Some of the volunteering that Aberystwyth students can undertake during the week includes working at Aberystwyth Food Surplus, upgrading the endangered duck pond at Borth Wild Animal Kingdom, conducting a survey of dolphins and other marine species in Aberystwyth Harbour with Cardigan Bay Marine Wildlife Centre.
There are also opportunities for a beach clean on Tan-y-Bwlch beach, knitting with the elderly at the Morlan Centre as part of Age UK's 'No one should have no one - tackling loneliness' project, and volunteering at Aberystwyth parkrun.
Over 500 students regularly volunteer at Aberystwyth University and collectively contribute more than 1500 hours a week in a range of roles – from running sports and social societies to staffing Nightline and St John's Ambulance services.
Aber SUs website now hosts a student volunteer 'hours log' where Aberystwyth student can keep a record of their volunteering hours.
Professor Tim Woods, Pro Vice-Chancellor for Learning, Teaching and the Student Experience at Aberystwyth University, said: "When students come to Aberystwyth to study, they come because of the courses we offer and our reputation for teaching and research excellence. Once here, they become part of what is a very special community - and volunteering is a way in which they can give something back to the location where they live as well as learning valuable new skills."
Amy Goodwin, Academic and Volunteering Coordinator at the Students' Union said: "This is the second time we're taking part in Student Volunteering Week (SVW) and we're really pleased to be able to work with such a range of local organisations to provide a one-off volunteering opportunity every day. SVW is a great chance to promote volunteering and get involved. It's also a great chance for us to shine a light on students who already give up their time to volunteer in Aberystwyth throughout the year."