Cream of the crop: Aberystwyth University student tastes success at UK dairy event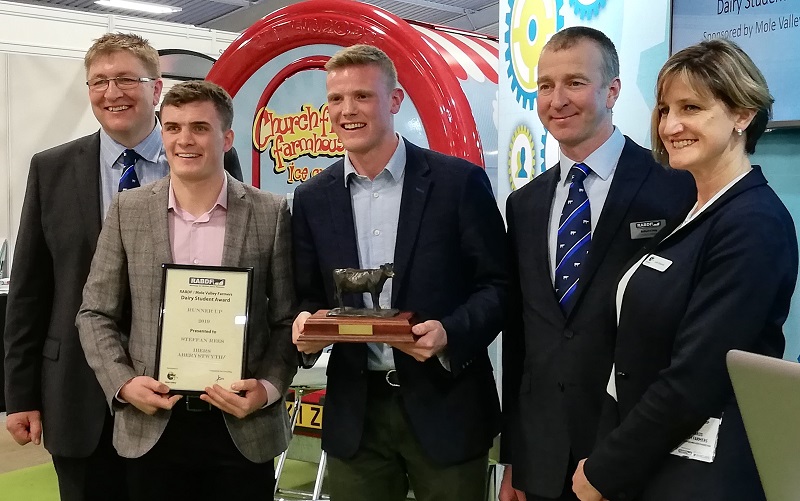 Steffan Rees third from the right with his RABDF Dairy Student 2019 competition runner up award at the Dairy-Tech event in Stoneleigh.
An Aberystwyth University agriculture student is one of the top dairy students in the UK according to the Royal British Dairy Farmers Association - RABDF.
BSc Agriculture student Steffan Rees from Llanarth, Ceredigion, was announced as runner up in the prestigious RABDF Dairy Student for 2019 at the Dairy-Tech conference held in Stoneleigh this week.
Sponsored by Mole Valley Farmers, the RABDF Dairy Student competition has been awarded annually since 1991, and draws entries from agricultural colleges and Universities from across the UK and Northern Ireland.
The competition reflects the need for modern dairy farmers to understand the industry, its strengths and weaknesses, and how best to apply farming methods to achieve optimum results.
Steffan comes from a long line of dairy farmers and his father studied at the Welsh Agricultural College, now part of Aberystwyth University.
Iwan Owen, Agriculture Lecturer at Aberystwyth University's Institute of Biological, Environmental and Rural Sciences (IBERS) said: "Sincere congratulations to Steffan on this outstanding achievement. From the start of the competition, Steffan competed against the best students in Britain, which reflects the high standard of our provision here in Aberystwyth.
"Steffan was an excellent Foundation Degree student, and he is now in his third year with us studying BSc Agriculture.
"He has always been passionate about dairy production, and has had valuable experience working with one of Ceredigion's foremost advocates of grass fed dairy production, farmer Alan Jones."
The first round of the competition featured a report based on a dairy farm's accounts.
For the second round, Steffan was one of only 5 students selected and invited to give a presentation on 'The dairy industry in 10 years' time' at the Farmers Club in London in December.
Following the presentations, and for the first time, this year the students and their lecturers were invited to lunch with Lord Curry, President of RABDF at The House of Lords, during which the finalists' names were announced; and followed by a tour of Westminster.
Steffan said: "I was delighted with the news of getting to the semi-finals in London and amazed when I was told I would be going to Dairy-Tech as a finalist, it made all the work worth it.
"Obviously, it's a huge honour for me to be a finalist and I must thank the University for the opportunity and the continued support, especially from Coleg Cymraeg lecturer Manod Williams who has been great throughout the whole process.
"I'm hugely passionate about farming and dairy in particular, and that has come from generations of farming throughout the family.
"We farm dairy and sheep at home and coming to university and having this experience has been great in seeing and understanding what happens beyond the farm gate as well as meeting so many different people in the industry.
"I'm looking forward to hopefully graduating this year and going home to the farm, alongside some other things such as travelling and maybe seeking a part time job in the industry.
"I enjoy the dairy sector hugely, and with so many changes and challenges occurring, I think it's vital that the younger generation gather knowledge and experiences of all types in order to survive and be profitable in the future.
"I think the dairy sector has a bright future post Brexit, but I do think we need to improve our marketing and communication skills in order to secure consumption of dairy and support of the industry over the coming years.
"The Dairy-Tech event is an opportunity to see the ideas of the future come together in one place."
Two 3rd year BSc Veterinary Biosciences students from IBERS were also awarded the Volac sponsored RABDF Farm Health Management Award at Dairy-Tech.
Ceri Davies (winner) and Becky Thomas (finalist) were successful having entered with essays on Biosecurity and Antimicrobial Resistance.