New scholarship celebrates sporting success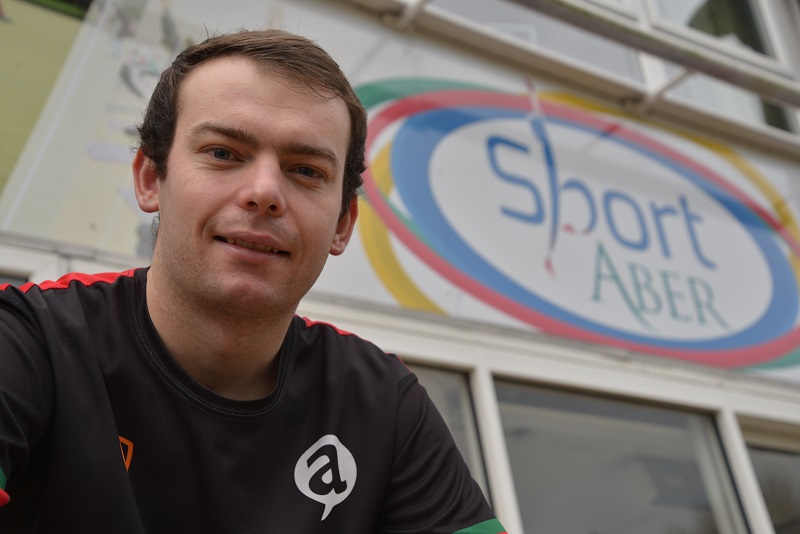 Sports Merit Award winner and archer Christopher Cassells represented Wales at Euronations 2018.
The sporting achievements of Aberystwyth University students are being recognized with a new sports award, the first winners of which have been announced.
The Sports Merit Award recognises students who have excelled in their chosen discipline and their contributions to the University's sports clubs and societies.
Funded by the University's alumni through the Aber Fund, the award also offers students an opportunity to highlight their successes and supports them with their sporting activities and studies in the coming year.
This year's winners - Christopher Cassells (Archery), James Coulton (Rugby Union) and Zenan Ibrahim (Pool) - were selected from a field of 41 applicants by a panel representing the University and the Aberystwyth Students' Union.
Christopher Cassells is studying Marketing with Management and is the 2018 BUCS (British Universities & Colleges Sport) indoor and outdoor champion. Christopher represented Wales at Euronations 2018 and was placed 5th as an individual and 2nd in the team competition.  He currently holds 8 Welsh and 1 UK records.
Chris said of his award: "This award will help me to invest in the necessary equipment, train and compete to strive to be at the highest level that I can be, and achieve my goals for the 2019 season. My biggest target for 2019 will be to achieve a 700 50 metre score and be the first person to shoot a 600 on a Portsmouth round. These will help me to progress onto the GB team."
Law student James Coulton is the captain of the University's rugby first XV and has represented Aberystwyth University at the Welsh Academicals. James also coaches a number of other teams within the University.
Zenan Ibrahim is studying Business and is the co-founder of Aberystwyth University's Pool Club. Zenan has been club captain for the past two years and is currently its President. He led the university's pool team to victory at the Welsh University Championships and represented Welsh university students at the Homenation in Aberdeen in 2017.
Zenan said: "Getting the sport merit award is really exciting as well as motivating. Last year I had the opportunity to play for the Welsh Student team where we lost in the final. I aim to get selected again this year and try to win the trophy. I am also participating in BUCS UK this year, so this will be a complete new experience and I am very much looking forward to it."
Louisa Fletcher, Aberystwyth Student's Union Opportunities Officer and a member of the awarding panel said: "The three students selected to receive the Sports Merit Award all highlight the sporting talent that we have across a broad range of our sports clubs at the University. It is thanks to the Aber Fund, that we are able to reward them for their hard work and dedication to their sport and student clubs here in Aberystwyth. They have all outstanding achievements and I wish them the best of luck with their sporting goals for the future."
Dylan Jones, Alumni Engagement & Individual Giving Manager said: "We are incredibly grateful for the continued support and generosity of our alumni community to the Aber Fund, many will have fond memories of their participation in sport and their respective clubs whilst at Aber. The Aber Fund is committed to supporting projects that directly enrich the student experience and create new opportunities. By funding the new Sport Merit Awards our alumni recognise and help some of Aber's most talented individuals achieve their potential."
Winners of the Sports Merit Award each receive £500. The application process will re-open in September 2019.