Nominations open for staff and students awards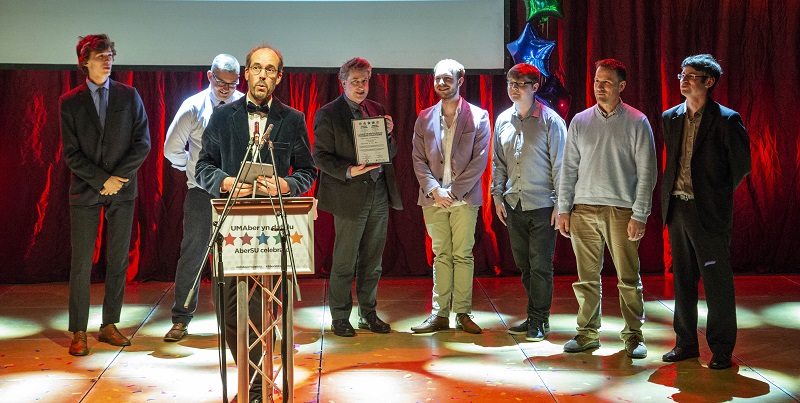 Mathematics was awarded the title of Department of the Year at the AberSU Celebrates Staff and Students Awards 2018
Aberystwyth University students have begun to send in their nominations for the annual Aberystwyth Students' Union Staff and Students Awards.
Organised by Aberystwyth Students' Union and supported by the University, the awards which are now in their eighth year, offer the opportunity to highlight teaching excellence and recognise the contribution of staff and students to the student experience.
Students are being invited to recognise staff and fellow students by nominating individuals or departments for one of fourteen awards.
The award categories for 2019 are:
Lecturer of the Year
Support / Service Staff Member of the Year
Academic Representative of the Year
Student Volunteer of the Year
Volunteer Officer of the Year
Student Mentor of the Year
Supervisor of the Year
Department of the Year
Hyrwyddwr yr Iaith Gymraeg (Welsh Language Champion)
Postgraduate Teacher of the Year
Personal Tutor of the Year
Outstanding Feedback Award
Next Step Award
Leading Equality Award
A Special Mentions award may also be given at the discretion of the panel to recognise the outstanding work of a member of the University community who has contributed to a students' experience but does not fit into one of the other categories.
Commenting on the success of the Awards, Meg Hatfield, Academic Affairs Officer at Aberystwyth Students' Union, said: "Our AberSU Staff and Student Awards are a great opportunity to recognise the hard work and success of both staff and students over the past academic year. We're looking forward to bringing the University community together to share and celebrate achievements."
Professor Tim Woods, Pro Vice-Chancellor (Learning, Teaching and Student Experience), commented: "The AberSU Staff and Students Awards have become an important fixture in the University calendar now. The evening is a celebration of good practice, which provides an opportunity to recognise and celebrate staff and students that go above and beyond to make the Aberystwyth University student experience the excellent and transformative one it is.
"It might be the energising and engaging lecturer who inspires students with a passion for their subject; the committed Academic Representative who effectively voices the opinions of all students on their course; the personal tutor who is passionate about helping students and ensuring their time at university is the best it can be; or the staff member who helps shape a student's future ambitions and enables them to realise their full potential."
Students wishing to nominate can do so at: https://www.abersu.co.uk/celebrate/.  The nomination period closes on Friday 1 March 2019. 
The winners will be announced at a celebration evening at Aberystwyth Arts Centre on Tuesday 2 April 2019.