Aberystwyth academic awarded Leverhulme Major Research Fellowship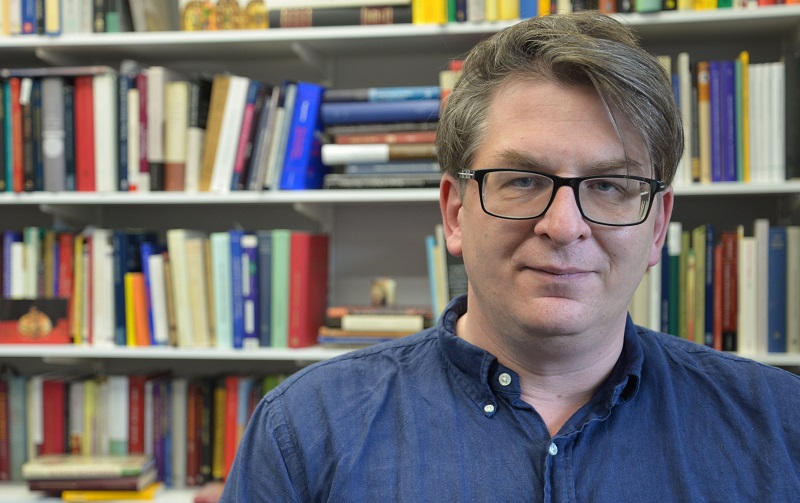 Professor Björn Weiler from Department of History and Welsh History is a historian of medieval Europe.
A new study by an Aberystwyth University historian is set to look at why disparate parts of Europe came up with common narratives over 800 years ago.
Working from texts produced across Europe over a 200-year period, Professor Björn Weiler from the Department of History and Welsh History will explore a phenomenon that saw communities write their stories and tell of the superior attributes which they saw as setting them apart from their immediate neighbours.
A historian of medieval Europe, Professor Weiler's sources will include letters, chronicles, saints lives as well as architecture and archaeological finds.
The project is funded by a Major Research Fellowship from the Leverhulme Trust.
"During three distinct periods – the years 1100 to 1130, 1180 to 1210 and 1250 to 1280 - different regions in Europe set about writing their histories and what made them stand out," said Professor Weiler.
"These stories were developed independently of each other, yet their authors came up with similar mechanisms and ideals for writing about the distinctiveness of their communities."
"Why was it that people in Denmark, Poland or Norway all started writing the history of their communities in pretty much the same way, at pretty much the same time, and for whom?"
"What is intriguing about is that all these writings link back to Rome, or at least to Antiquity, to the same ideas and the same expectations as to what a community should be."
"The ideals are both political and cultural, and to some extent always conform to a Europe-wide idea. So the Danes are distinctive because they are the best Christians, the most war-like, superior even to the Romans. The Poles are the best Christians because they are the most war-like, the most educated, and so on."
At each stage, writers also refashioned, rewrote and reimagined this history of origins. New themes were introduced, and new information was added, reflecting broader cultural, political and religious changes.
Professor Weiler will also look at what both these myths and their rewriting tell us about how communities dealt with rapid and often profound change.
Professor Weiler added: "How change was incorporated, in turn, also sheds light on an important tension between common European norms and practices, and the desire to be distinctive. This tension is a recurring theme in European history, but the period between 1100 and 1300 is also the first time that we have sufficient evidence to be able to trace it.
"What makes these medieval texts even more important is, of course, that they were taken up and incorporated into modern narratives of nationhood in the nineteenth century. They continue to shape how modern nations see themselves, and how modern nationalism justifies itself.
"This work is relevant because of its trans-European perspective. In the age of Brexit and the rise of populist nationalist movements over the last 10-15 years with the election of Trump, Modi in India, Bolsonaro in Brazil and Orbán and the Fidesz-KDNP alliance in Hungary, it has clear contemporary resonances and will help place these into a broader historical context."
The project has emerged from a forthcoming book by Professor Weiler on the idea of kingship in medieval Europe, and how political power functioned between the years 950 and 1250.
Professor Weiler is a Fellow of the Royal Historical Society, and has held visiting fellowships at the universities of Harvard, Cambridge, Bergen (Norway), and Freiburg (Germany), as well as the University of North Carolina Chapel Hill.
He has been awarded £155,000 by the Leverhulme Trust for the three year study which begins in September 2019.