New volume explains the significance of place in Keats's poetry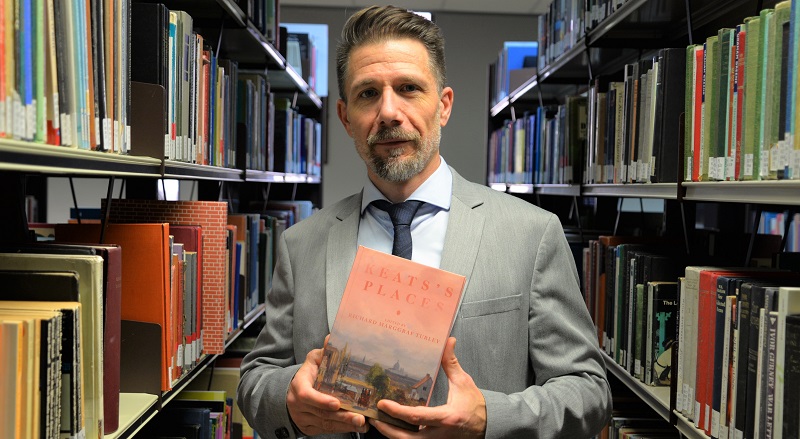 Professor Richard Marggraf Turley
A new book edited by an Aberystwyth academic explores the significant locations across Britain which shaped the writing of the English Romantic poet, John Keats.
Keats's Places is edited by Richard Marggraf Turley, Professor of Romantic Literature in the Department of English and Creative Writing at Aberystwyth University.
Writing in the book's introduction, Professor Marggraf Turley challenges the common view that the apparent timelessness of Keats's writing in some way implies placelessness; claiming that in fact location and place informed and shaped Keats's poetry.
Professor Marggraf Turley said: "It's often assumed that the flowery woods, bowers and hilly landscapes so characteristic of Keats's poetry are imaginative – mere literary confections. In fact, those locations are often very specific, describing the medicinally rich botany of Hampstead Heath, the distinctive terrain on the Isle of Wight or even the artificial attractions of Vauxhall Pleasure Gardens, the haunt of prostitutes – whose 'beamy eyes' Keats also described. Keats's keen eye and sensitivity to local shapes and forms are what give his work its distinctive power."
The volume features a collection of essays by internationally renowned Keats scholars, in which they discuss a selection of places which featured in Keats's creative life and helped mould his authorial identity.
The locations featured range from the claustrophobic stands of Guy's Hospital operating theatre to the boneshaking interior of the Southampton mail coach; from Highland crags to Hampstead Heath; from crowded city interiors to leafy suburban lanes.
The book also investigates the relationship between Keats's real and imagined places.
Professor Marggraf Turley is author of several books on the Romantic poets, including Keats's Boyish Imagination (2004), Bright Stars: John Keats, Barry Cornwall and Romantic Literary Culture (2009), and with Jayne Archer and Howard Thomas, Food and the Literary Imagination (2015).
He is also author of a novel set in 1810, The Cunning House (2015). In 2007, he won the Keats-Shelley Prize for poetry.