Public lecture: 'E H Carr: Nationalism and the Nation-State in an Age of Crisis'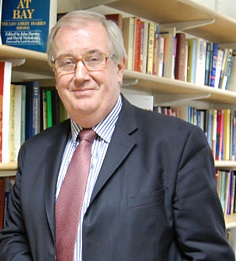 Professor Michael Cox
A leading expert on US foreign policy and prolific writer on the Cold War will speak at Aberystwyth University on Tuesday 4 December 2018.
Professor Michael Cox from the London School of Economics (LSE) will deliver the 35th E H Carr Annual Lecture, entitled 'E H Carr: Nationalism and the Nation-State in an Age of Crisis'.
The 'Carr Lectures' are widely regarded as the most distinguished lecture series in the field of international politics.
Professor Cox is an Emeritus Professor at the LSE and Director of LSE IDEAS, one of the leading university-based think-tanks in the world. He taught at the Department of International Politics at Aberystwyth University from 1995-2001.
The lecture forms one of the Centenary Speakers Series celebrating the 100th anniversary of the establishment of the world's first Department of International Politics at Aberystwyth University.
Professor Ken Booth from the Department of International Politics, said: "Professor Cox probably knows Carr's work better than anyone. He is a challenging speaker, and his topic is of immense significance at a time when nationalism is threatening the liberal international order that has delivered unrivalled peace and prosperity to many parts of the word since 1945. The world is at a crossroads: Carr and Cox are seriously thought-provoking guides."
The lecture will take place in the Main Hall of the International Politics Building on Penglais Campus at 6pm on Tuesday 4 December 2018.
The Department of International Politics warmly invites members of the public as well as University students and staff to attend.