GREAT Scholarships for Malaysian students to study at Aberystwyth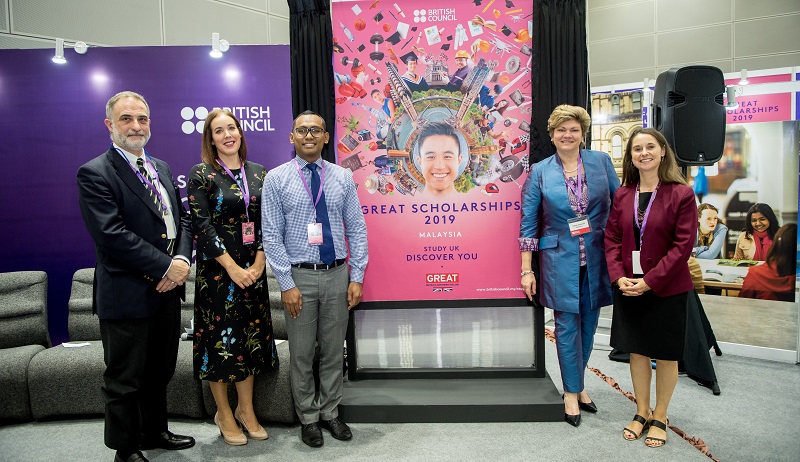 Left to right: Dr Marco Odello (Aberystwyth University), Ms Andrea Fordham (Queen's University Belfast), Mr Imran Hashim (University of Warwick), Ms Sarah Deverall (British Council) and Ms Sue Hopkinson (University of Kent) at the launch of GREAT Scholarships 2019 – Malaysia in Kuala Lumpur on 21 October 2018. Credit: British Council
Aberystwyth University is one of five UK Universities to have partnered with the British Council to offer scholarship opportunities to Malaysian students.
The 'GREAT Scholarships 2019 – Malaysia' scheme encourages and supports individuals to pursue higher education in the UK.
The scheme is jointly funded by the UK government's GREAT Britain Campaign, the British Council, and participating universities in the UK. It provides funding opportunities to prospective students from a selected number of countries who will enrol into UK universities in the autumn of 2019.
The inaugural GREAT Scholarships 2019 – Malaysia scheme offers ten taught postgraduate scholarships to qualifying Malaysian students, totalling almost £100,000.
The UK attracts more than 17,000 Malaysian students every year, most of whom head to the UK to pursue their undergraduate studies. In recent years, trends suggest that a growing number of Malaysian students are interested in pursuing postgraduate studies in the UK. Currently, the number of postgraduate students accounts for about 15 per cent of the total number of Malaysian students in the UK.
Professor Elizabeth Treasure, Vice-Chancellor of Aberystwyth University, said: "Aberystwyth University has had strong academic links with Malaysia for many years and the GREAT Scholarships scheme will further strengthen the unique bond between us. With our long-standing reputation for teaching excellence and world-leading research, we are delighted to be part of this inspiring collaboration with the British Council and look forward to welcoming postgraduate students from Malaysia to join our international academic community."
The four other UK universities which will offer opportunities under the scheme are Queen's University Belfast, the University of Kent, the University of Stirling, and the University of Warwick.
Sarah Deverall, Director of the British Council in Malaysia said: "Postgraduate studies in the UK are more appealing as the duration of the programmes are relatively short. Most UK postgraduate degrees take only one year to complete, making the overall cost much more affordable compared to other countries. Malaysia is a key country for the five universities that have chosen to partner with the inaugural GREAT Scholarships 2019 - Malaysia. These universities have been welcoming Malaysian students to their campuses for years and they value the diversity and academic contribution that Malaysian students bring."
The GREAT Scholarships are only available for one-year postgraduate taught programmes in the UK for the 2018/19 academic year. Malaysian students intending to apply for the scholarships must have received an offer of entry from any of the five participating universities mentioned above and must satisfy all entry requirements for the chosen course as stated by the respective university.
For more information about the GREAT Scholarships 2019 - Malaysia, please visit: www.britishcouncil.my/study-uk/scholarships