'I fyny bo'r nod: personal, civic and spiritual ambition in late-Victorian Wales'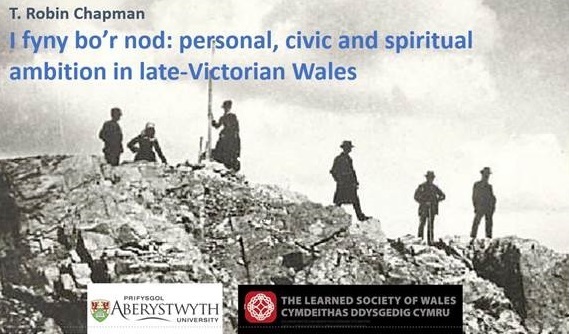 Ambition, a concept that became an "obsession" in Wales and the topic of innumerable eisteddfod compositions, sermons and essays during the final decades of the nineteenth century, will be the focus for a Learned Society of Wales public lecture at Aberystwyth University on Tuesday 20 November 2018.
'I fyny bo'r nod: personal, civic and spiritual ambition in late-Victorian Wales' will be delivered by Dr T. Robin Chapman, Fellow of the Learned Society of Wales and Senior Lecturer in the Department of Welsh and Celtic Studies at Aberystwyth University.
Dr Chapman will trace the theological origins of the concept of 'ambition' and its centrality to people's understanding of the period's attitudes to topics as diverse as health, morality and celebrity.
The lecture takes place in the Main Hall of the International Politics Building at Aberystwyth University takes place at 7:00pm, and will preceded by a reception at 6:30pm.
The session will be chaired by Learned Society of Wales Fellow, Professor Paul O'Leary from the Department of History and Welsh History at Aberystwyth University, and attended by Sir Emyr Jones Parry, President of the Learned Society of Wales.
Dr Robin Chapman has been lecturing at Aberystwyth University since 2003, following a period as a school teacher in Yorkshire and working previously on the Welsh Academy Dictionary, among other projects.
He is the author of several volumes, including biographies of W. J. Gruffydd, Ambrose Bebb, Islwyn Ffowc Elis and Un Bywyd o Blith Nifer: Cofiant Saunders Lewis (2006).
He was awarded a DLitt in 2004 for a selection of his published work. He is currently working on a history of Welsh literature between c.1740 and 2005 for The Oxford Literary History of Wales series, under the working title A Troubled Heritage.
The Learned Society of Wales was set up in 2010 to recognise and represents excellence and promote scholarship and research, wherever it is found in Wales while appreciating the national and global dimension. It has over 500 Fellows elected in recognition of academic excellence.