North Wales school wins all Wales scratch animation competition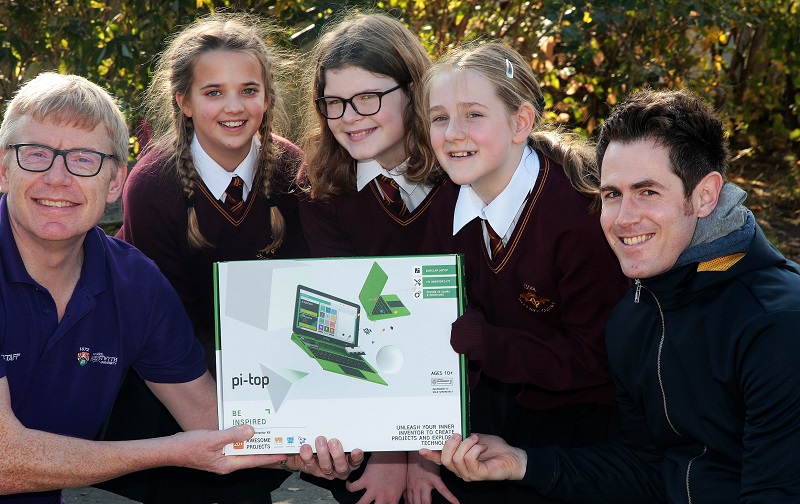 Dr Martin Nelmes (left) and Eurig Salisbury from Aberystwyth University present a pi-top computer to Eleanor Ingham, Awen Dafydd and Caitlin Valintine from Ysgol Bro Gwydir, winners of the Scratch Animation Competition for Primary Schools in Wales.
A short animated film by pupils at a north Wales school is the winner of an all-Wales scratch animation coding competition hosted by Aberystwyth University.
Chwedlau Chwareus, Merched y Môr by CoolCacti Studios at Ysgol Bro Gwydir, Llanrwst, tells the story of an old man and his three daughters, Branwen, Gwenllian and Llio, who live on the shores of Cardigan Bay.
Envious of the old man's happiness, Dylan, God of the Sea, sends a large wave to kidnap the daughters.
On seeing how unhappy this made the old man, guilt leads Dylan to turn the daughters into seagulls so that they can visit their father whenever they wish.
Launched in 2017, the Scratch Animation Competition for Primary Schools in Wales has been developed by the Department of Computer Science at Aberystwyth University.
The competition challenges year 3 to 6 pupils to create animations that combine computer coding and poetry or Welsh mythology.
This year's competition saw two specially commissioned poems, 'Dad' and 'Wilbert the Wizard', by award-winning writer Eurig Salisbury, Interim Head of the University's Department of Welsh & Celtic Studies and Welsh Children's Poet Laureate (2011-2013).
Eurig and competition organiser Martin Nelmes, Teaching Fellow: Science Outreach at Aberystwyth University, presented a pi-top laptop computer to competition winners Ysgol Bro Gwydir on Friday 19 October 2018.
Meinir Jones, Headteacher at Ysgol Bro Gwydir said: "I am immensely proud of the pupils who worked so hard to create an animation for the competition. Through their participation in the competition, the children have developed a rich knowledge of Welsh mythology as well as enhancing their creative computing skills.
"Coming out on top was a triumph for the team, but the prizes will be a valuable experience for all children at Ysgol Bro Gwydir."
Ysgol Bro Gwydir pupil Awen Dafydd said: "I love coding, and it was great to be able to create something different on the 'Scratch' program for the competition. We were all extremely pleased to have come first."
Martin Nelmes said: "Coding is becoming an essential skill in many workplaces. It's important that students have opportunities to practice their coding skills from an early age in order to develop confidence. I was really impressed by the ways in which students had used ingenuity and creativity to create animations that added something to the stories they were telling."
The runners up for this year's competition are Ysgol Pennant, Penybontfawr; Ysgol Plascrug, Aberystwyth and Ysgol Llangynidr, Crickhowell.
Prizes are provided by competition sponsors pi-top and Kano.