Biography of Aberystwyth Professor of Welsh and conscientious objector published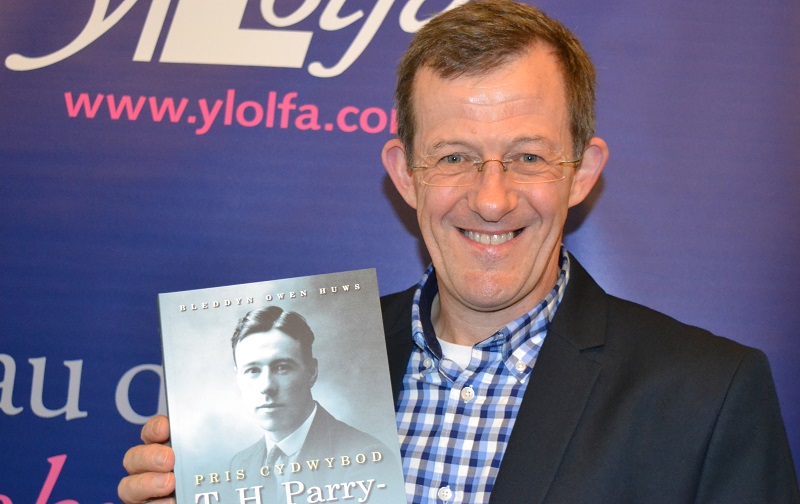 Dr Bleddyn Huws
A book launched this week sheds new light on the life and career of one of the most famous twentieth century Welsh writers.
Pris Cydwybod: T H Parry-Williams a Chysgod y Rhyfel Mawr by Dr Bleddyn Huws provides a detailed look at the experiences of T H Parry-Williams, who went on to be Professor of Welsh at Aberystwyth University, as a conscientious objector during the Great War.
Dr Huws, a Senior Lecturer at the Department of Welsh and Celtic Studies, also discusses how he was persecuted during the months after the War, when he was a candidate for the Welsh Language Chair at the University College of Wales, Aberystwyth, in 1919.
According to Dr Huws, the appointment to the Chair was deferred because of the extent of public objection to his nomination.
"Some people wanted to see his colleague Timothy Lewis appointed because he volunteered to serve in the army during the first War", said Dr Huws.
"Parry-Williams decided to turn his back on his post as lecturer and registered as a first year science student. His intention was to study medicine at the Barts Hospital medical school in London. However, when the Welsh Language Chair was re-advertised at Aberystwyth, Parry-Williams put his name forward a second time and was appointed", he added.
The book also deals, for the first time, with his three brothers' experiences during the War.
"I was very fortunate to use brand new material from the Parry-Williams family archive and to learn more about his brothers' careers in the army. While Parry-Williams was excluded from being conscripted, his three brothers served as volunteers", said Dr Huws.
Another facet of Parry-Williams' life that is disclosed for the first time in print is the story of his courtship of the GP from Trawsfynydd, Dr Gwen Williams.
In 1935, after fifteen years as Professor of Welsh, Parry-Williams applied to study at the University of Wales Medical School in Cardiff, but withdrew his application.
The medical books that he read in preparing to change his career are discussed in detail, with brand new information about his involvement in the Red Cross ambulance classes during World War II disclosed.
"Having examined the breadth of the new information about Parry-Williams's interest in medicine, I believe he regretted not having gone ahead with his original intention to become a doctor in 1919", said Dr Huws.
"By 1935, and nearing his 50th, it was too late in the day to change the course of his career and spend more years studying medicine and qualifying as a doctor. It is the opinion of some that his decision not to proceed was a loss to medicine. He could have made his mark as a doctor", he added.
Pris Cydwybod: T H Parry-Williams a Chysgod y Rhyfel Mawr is published by Y Lolfa and was launched at Old College on Wednesday 24 October 2018.